My Mismatched Style
I took some photos of our table as Sara and I were preparing for our Christmas Day family brunch, but they were "in process," and I forgot to get any shots after the glasses, cups and silverware were added. So these are incomplete, but I thought I'd share anyway. Also, we do have a few pictures of actual people in our home on Christmas rather than just dinnerware, but I'm waiting on those to be sent to me from the person whose camera contains them.  🙂
I used to think my decorating style was simply called "traditional" — I'm drawn to rolled arms on couches and chairs, wingbacks, darker woods. But when we moved into this house on May 31, 2012, it was full of light wood, clean lines, modern hardware and Scandinavian touches, so the two styles had to co-exist together. And I have relaxed a bit and like the meld.
So I've taken to calling my odd decorating style "Scottish Traditional Mismatched Ornithological, with hints of French-Scandinavian Eclectic."
You can see it all here, and the photos can be enlarged by clicking if you like:
Plaid plates, Swedish placemats, wintry woven Norwegian placemats with reindeer on them, brass candlesticks, toile-ish plates, cardinal napkins and salt and pepper shakers (a lovely gift from my dear friend Kristi), and a traditional-yet-slightly-modern centerpiece made by Sara.
Sara also pulled our deacon's bench to the table, and three little children occupied that spot.  🙂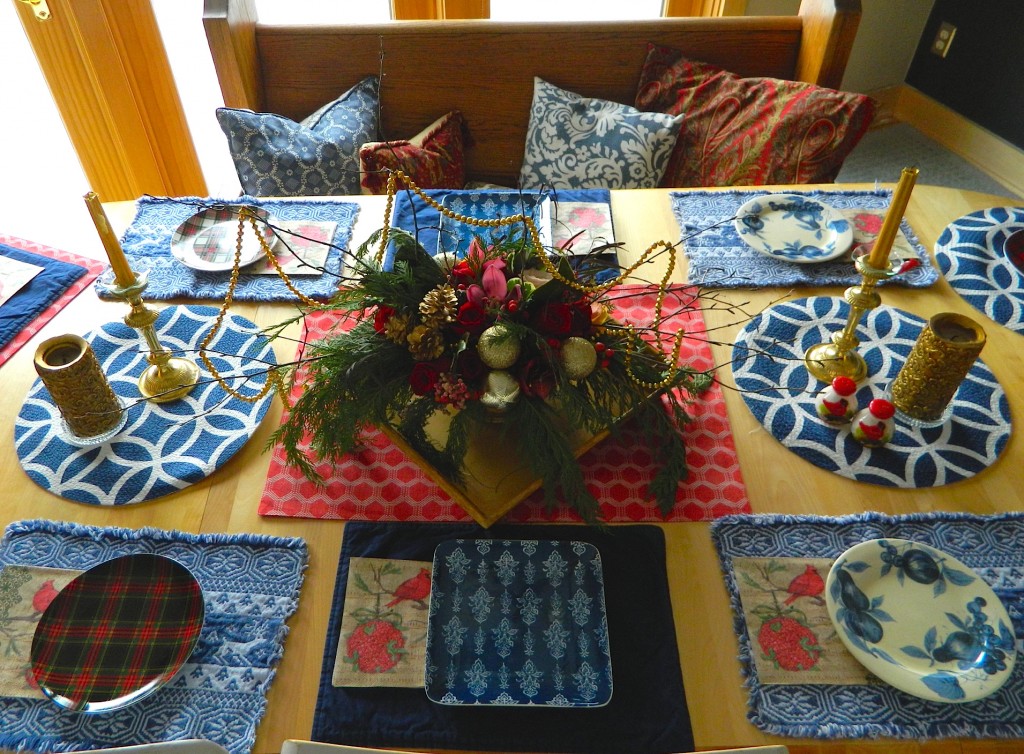 A closer look at the centerpiece Sara made. For whimsy, she draped some antique glass beads over the branches.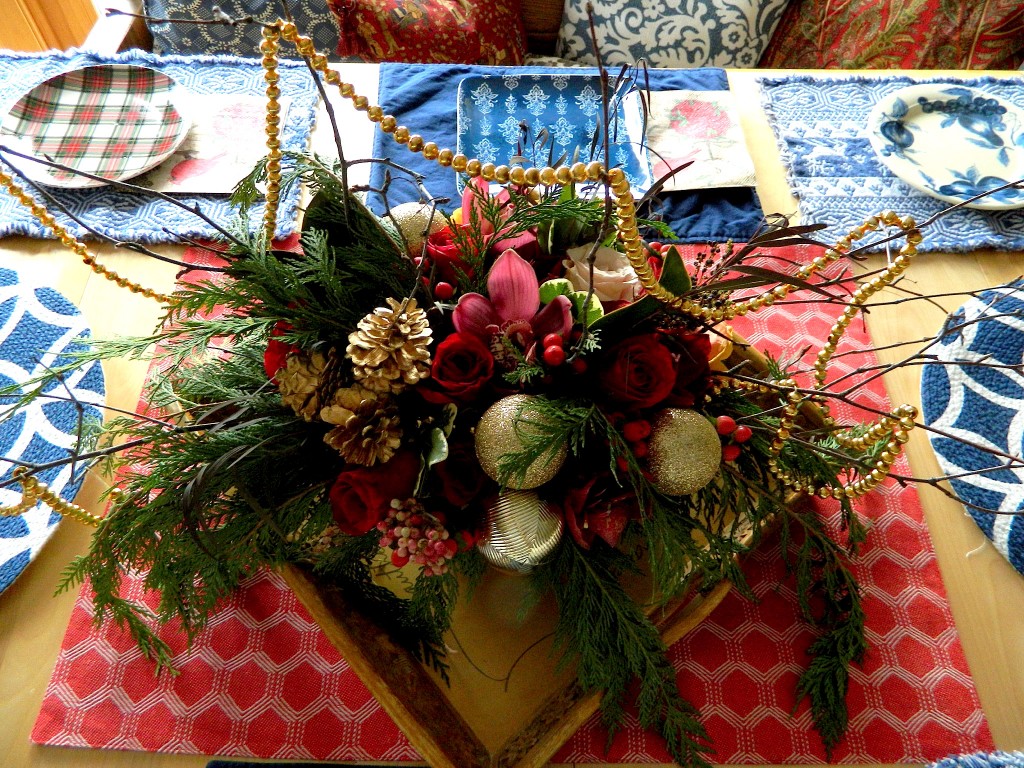 Scottish-Norwegian-Ornithological: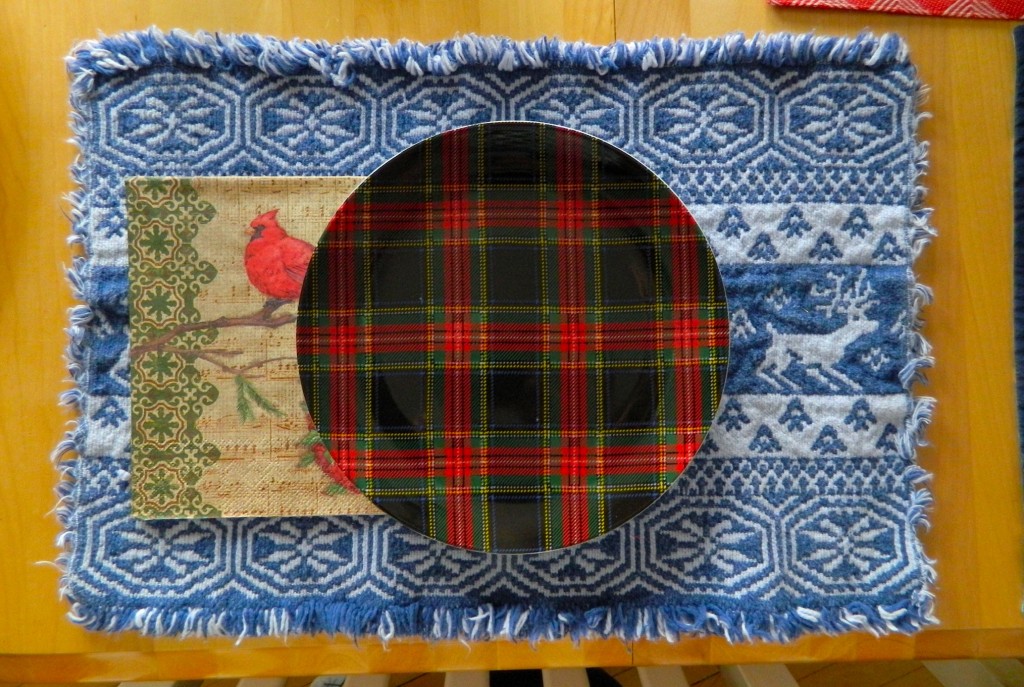 And here's Vivienne's little red wax sculpture of a cardinal again, perched on a candlestick. And a closeup of the adorable salt and pepper shakers: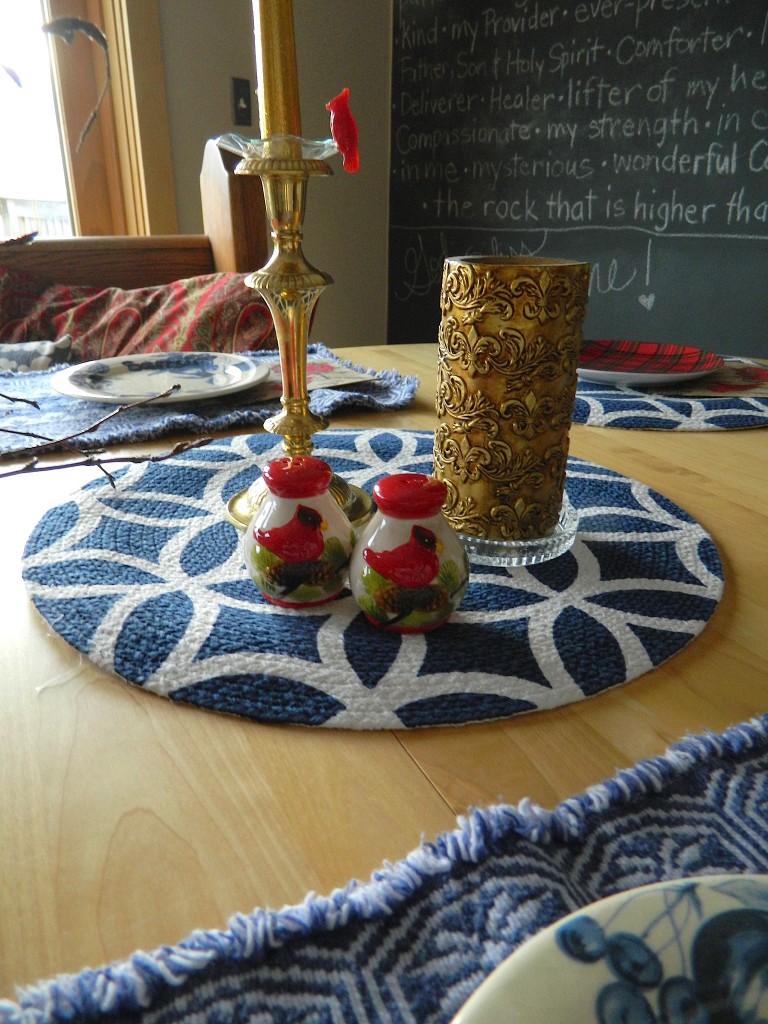 I'll post some photos of the people who ate off these plates soon — they might all be dressed in various ugly Christmas sweaters.
Have a blessed week,