Moanworthy
Have any of you eaten a Buddha Bowl? Some call them Big Bowls, or Grain Bowls….I don't know what to call them myself, but I could eat one every day for the rest of my life and be happy.
I made Grain Bowls for company recently, and here's a picture of what they looked like: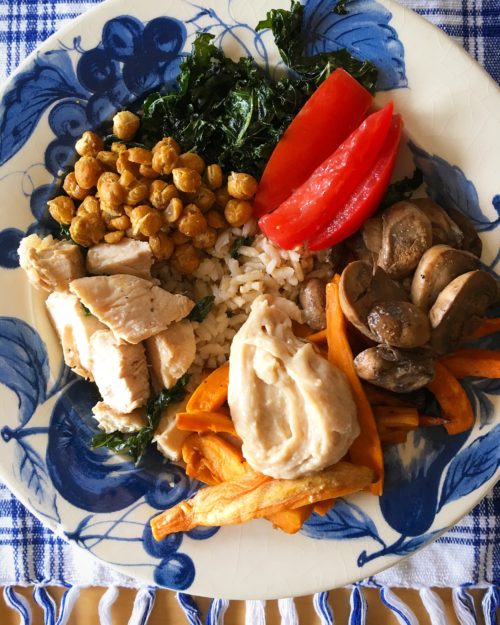 There are just layers of textures and flavors! Many recipes have a fried egg on top of all the rest of the ingredients, so maybe I'll try that next time.
I started with cooked brown rice, spooned into the bottom of the bowl. You can see marinated chicken breast to the left, then above that some curry-toasted chickpeas I made. The dark green is sauteed kale with a bit of garlic, sliced tomatoes, sauteed mushrooms with sherry and garlic, roasted sweet potato strips, and the creamy dollop on the sweet potato is a tahini dressing I made.
It was so colorful and delicious I had to restrain myself from moaning at the table. The people I invited over wouldn't have understood that. I have a couple of friends who would be fine with me rolling my eyes and moaning at a bite of something delicious, but I wasn't so sure about these folks, so I forced myself to stay light and relaxed  and hostessy and conversational.
I would encourage you to look for Buddha Bowl or Grain Bowl recipes online — there are hundreds of them. There are even whole cookbooks devoted to them. I want to have about five or six favorites to keep rotating week after week.
I'm off to run some errands now that it's 60-something degrees out instead of the hot and steamy weather we've had for literally months now.
Let me know if you've ever eaten or made a Buddha Bowl!