Looking For Moose
Michael and I recently drove north to spend some time in Grand Marais, sitting, reading, pondering, resting and refreshing ourselves. We returned to the Croftville Road Cottages, one of our favorite spots on the north shore. Three little wonderfully renovated cottages sit right on the edge of massive Lake Superior, and they're much more spacious than they appear from the road, are reasonably priced and always clean, and the proprietors, Teresa and Mike, are so friendly and helpful.
Grand Marais is famous in our neck of the woods for its abundant moose population, and I was personally looking forward to seeing a moose on this trip. There are moose crossing signs on the highway, several businesses with moose themes (The Mangy Moose Motel!), and a well-known hiking trail that leads into the woods of moose country, where people can supposedly catch views of these creatures that weigh up to 1500 pounds and measure seven feet tall.
It rained for most of our drive up, but we knew there were two cozy fire stoves in our cottage waiting for us. The leaves were just past their color peak, so many trees were almost bare, but there were still some gorgeous reds and golds to be seen.
This is the first photo I took after we arrived, looking toward the lake right outside the back of our cottage. Most of the birch and poplar trees had lost their yellow leaves, but the bushes were still ablaze.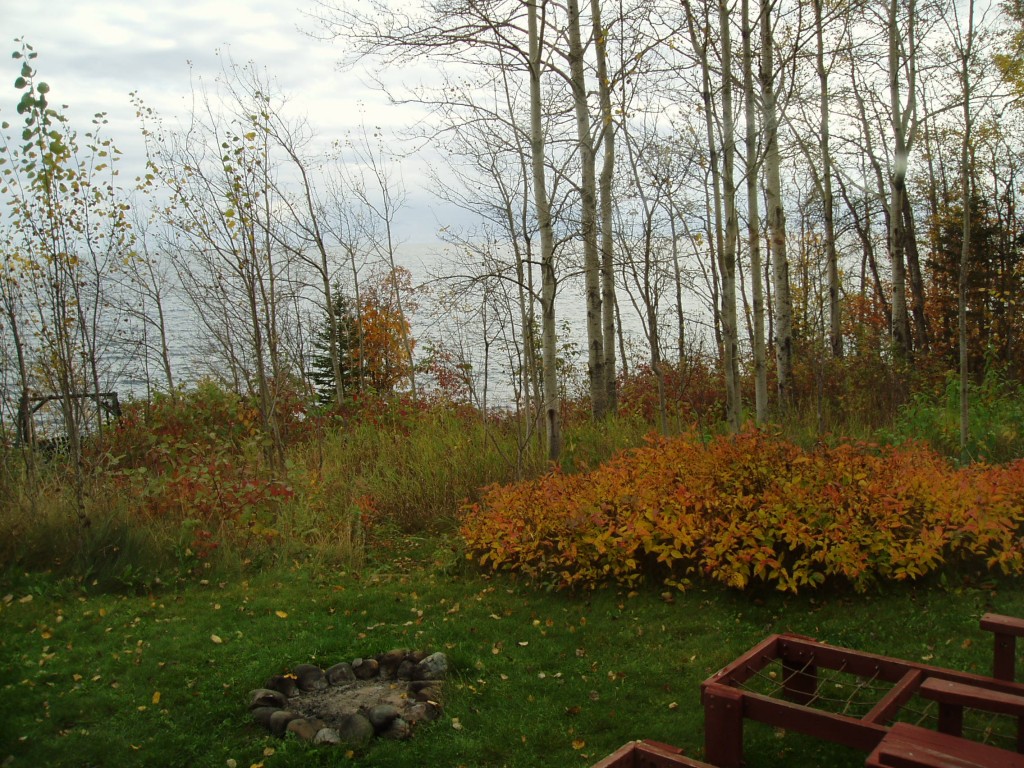 Here's one of the two comfortable bedrooms in Cottage 2: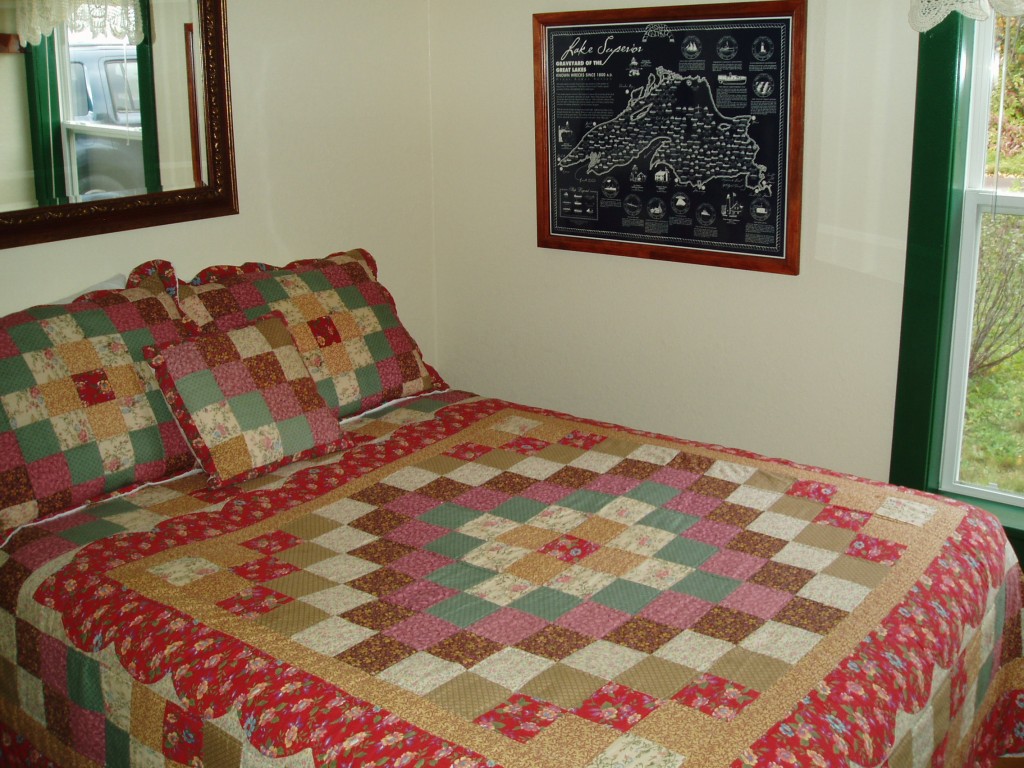 There's a framed print on the wall that reminds guests that Lake Superior is the graveyard to over 350 shipwrecks, many over 100 years old. According to legend, "Lake Superior seldom gives up her dead." This is because of the unusually low temperature of the water, estimated at under 36° F (2° C) on average. Normally, bacteria feeding on a sunken decaying body will generate gas inside the body, causing it to float to the surface after a few days. The water in Lake Superior is cold enough year-round to inhibit bacterial growth, and bodies tend to sink and never surface.
This is alluded to in Gordon Lightfoot's haunting ballad, "The Wreck of the Edmund Fitzgerald." The Edmund Fitzgerald's 29 crew members all perished when "the gales of November came early" in 1975 and "The Mighty Fitz" took on water in a fierce storm with thirty foot waves, broke in two and sunk within minutes.
Here's a satellite photo of Lake Superior…1333 feet deep, and the largest freshwater lake in the world: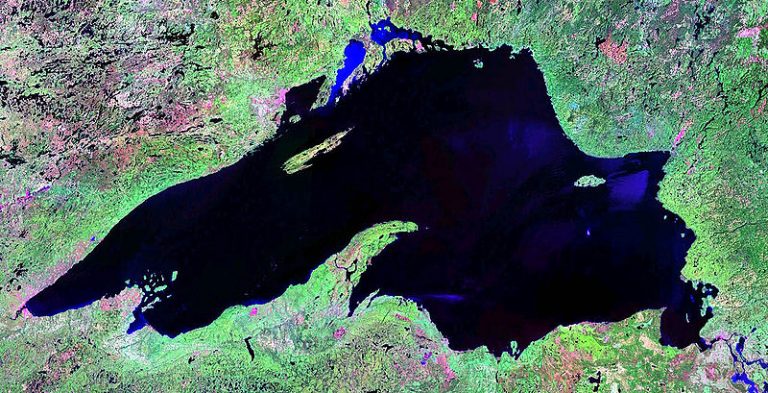 The little town of Grand Marais is touristy in the summer and very quiet in the winter. Most eating establishments close in late October. We've had The Crooked Spoon Cafe recommended to us before and had never been there during its operational months, until this last trip. We decided to eat dinner there on Friday night. Here's Michael outside — we had to wait 40 minutes to be seated.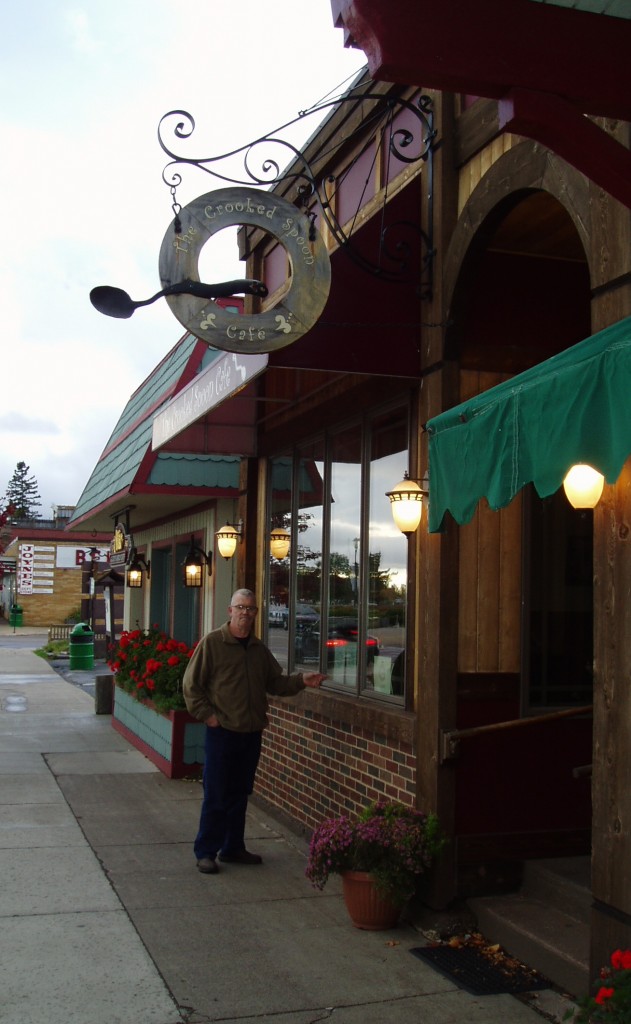 It was fairly plain decor inside the cafe, but the food was unique and delectable.
Michael chose French onion soup en croute with melted gruyere cheese, and "fresh Lake Superior whitefish, sauteed with a light cornmeal crust and served with lemon basil aioli, oven-steamed Minnesota wild rice and sauteed broccolini."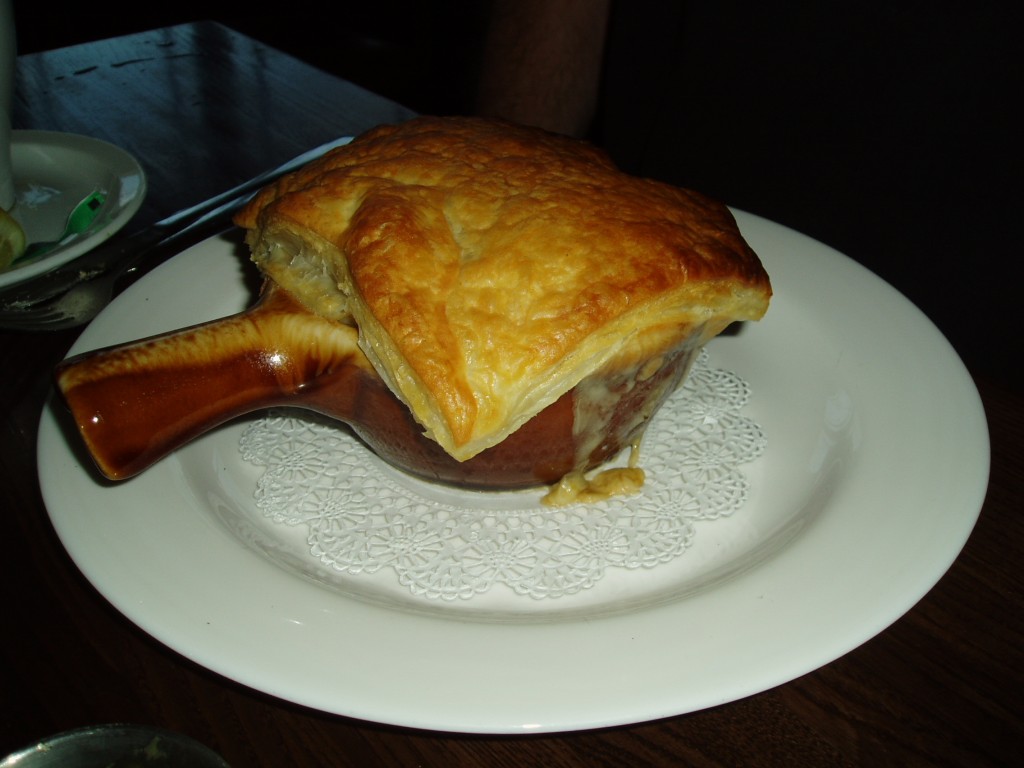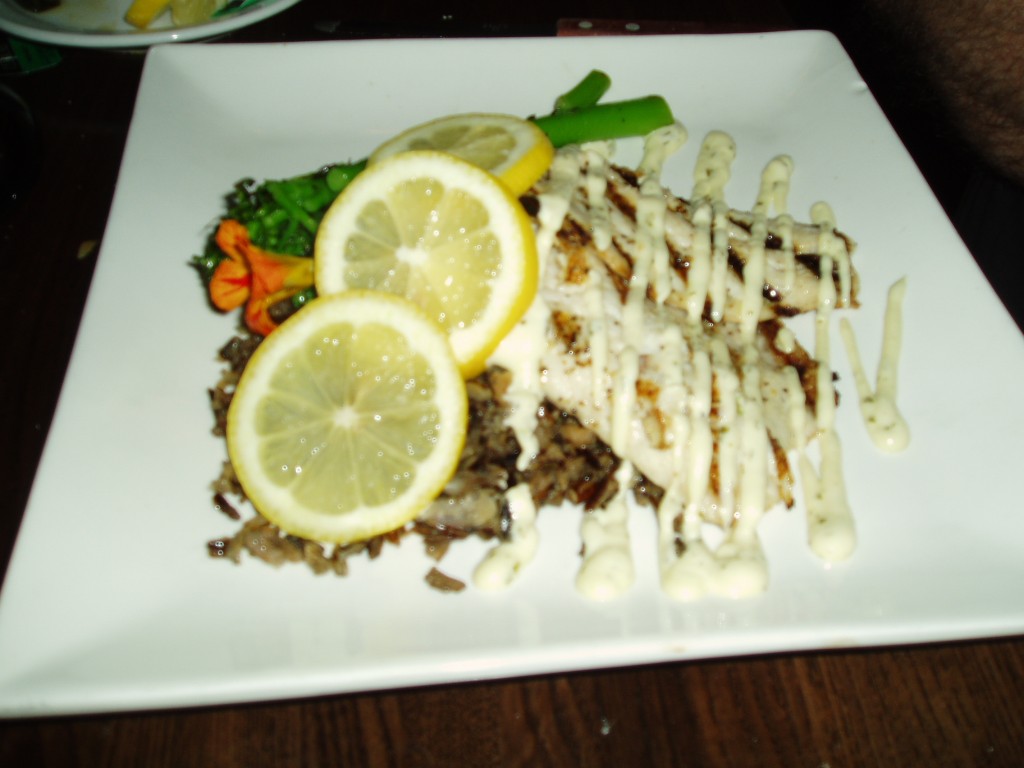 I had the special of the night, the "pan-roasted beef tenderloin with port wine demi-glace, buttermilk smashed baby red potatoes and grilled balsamic asparagus."
But first came the delicious salad with homemade blue cheese dressing: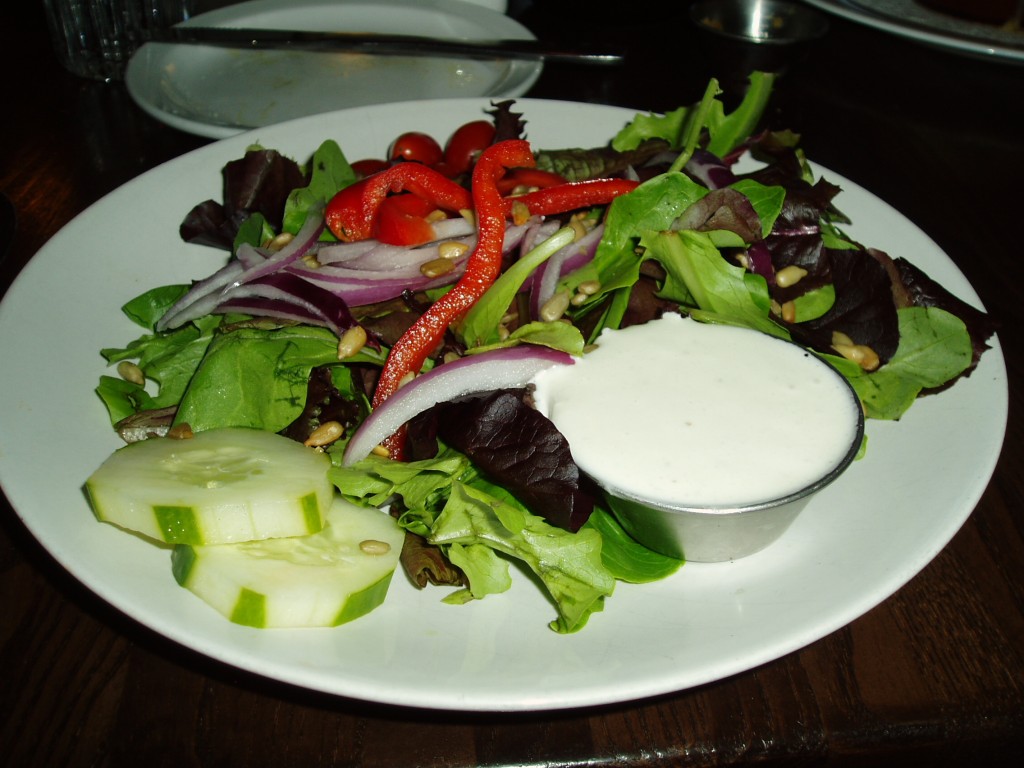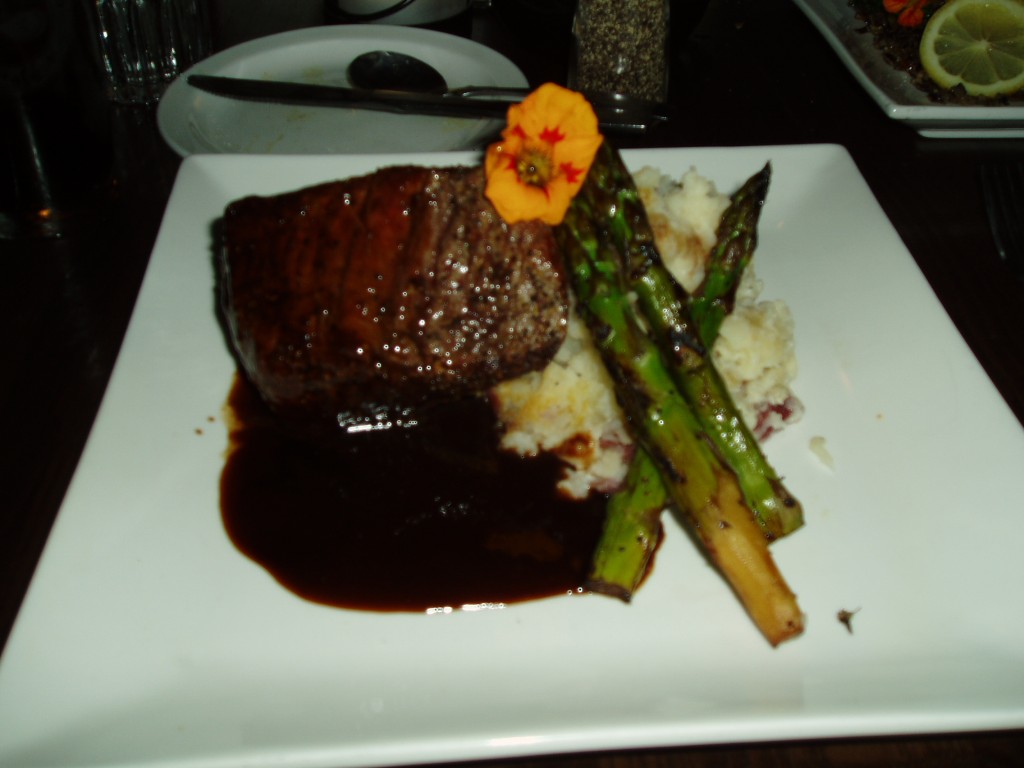 After dinner we strolled around downtown and bought some gifts, and then went home to our cottage, happy to go to bed early and sleep as late as possible the next morning, which is a rarity for us. The cheery fire in the stove was the perfect ending to a relaxing evening.
When one is accustomed to getting up at 5:30 a.m. seven days a week, however, one's internal clock isn't easily reset, so I was up at the crack of dawn and took these photos of the sunrise on the lake. These were taken from the living window at the back of the cottage.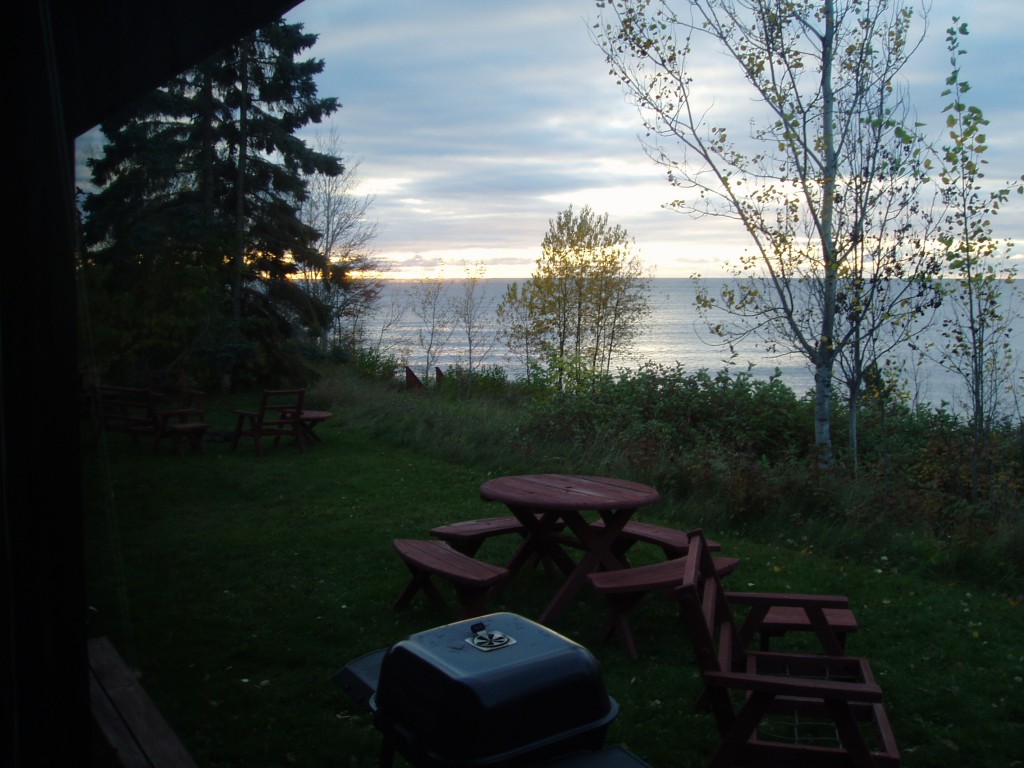 We ate breakfast at home and enjoyed the freedom to lounge and read and revel in the peace. We walked down to the cliff by the lake and sat on the swing, as we have each time we've visited this place.
The clouds had passed and the morning was delightfully crisp and sunny.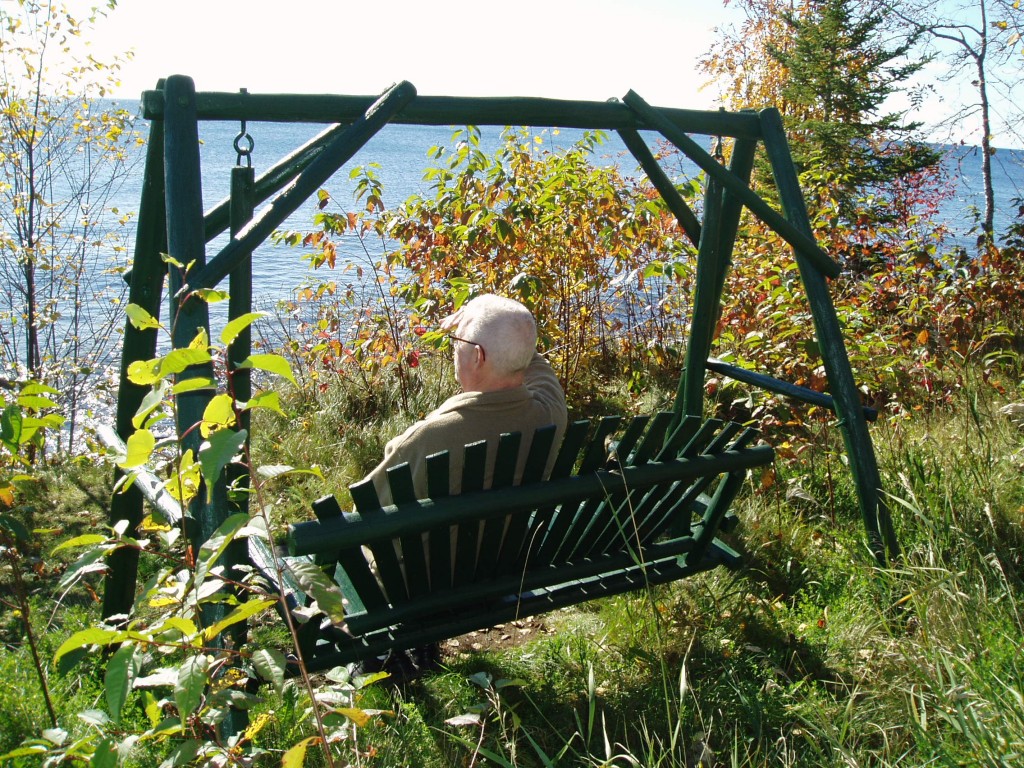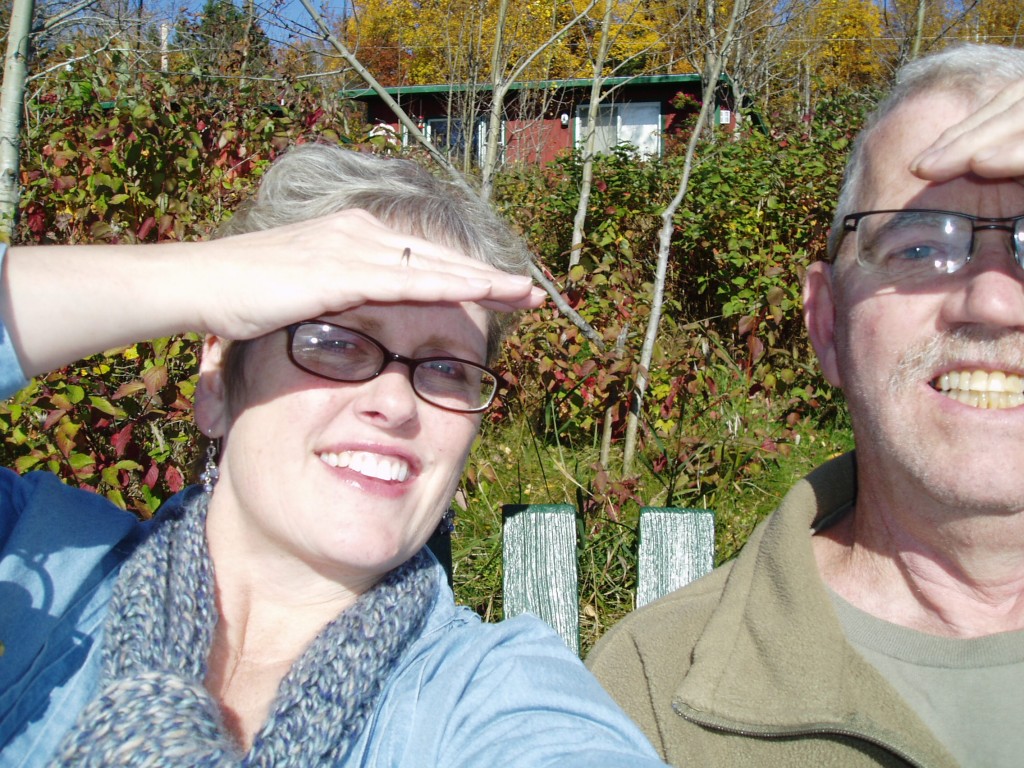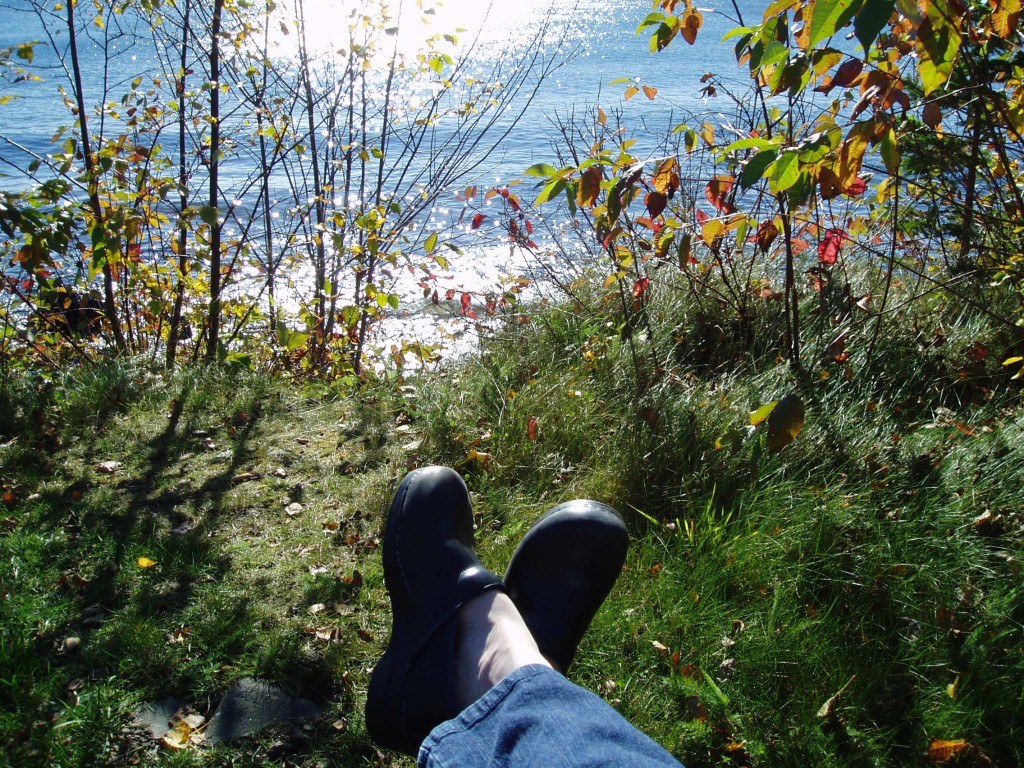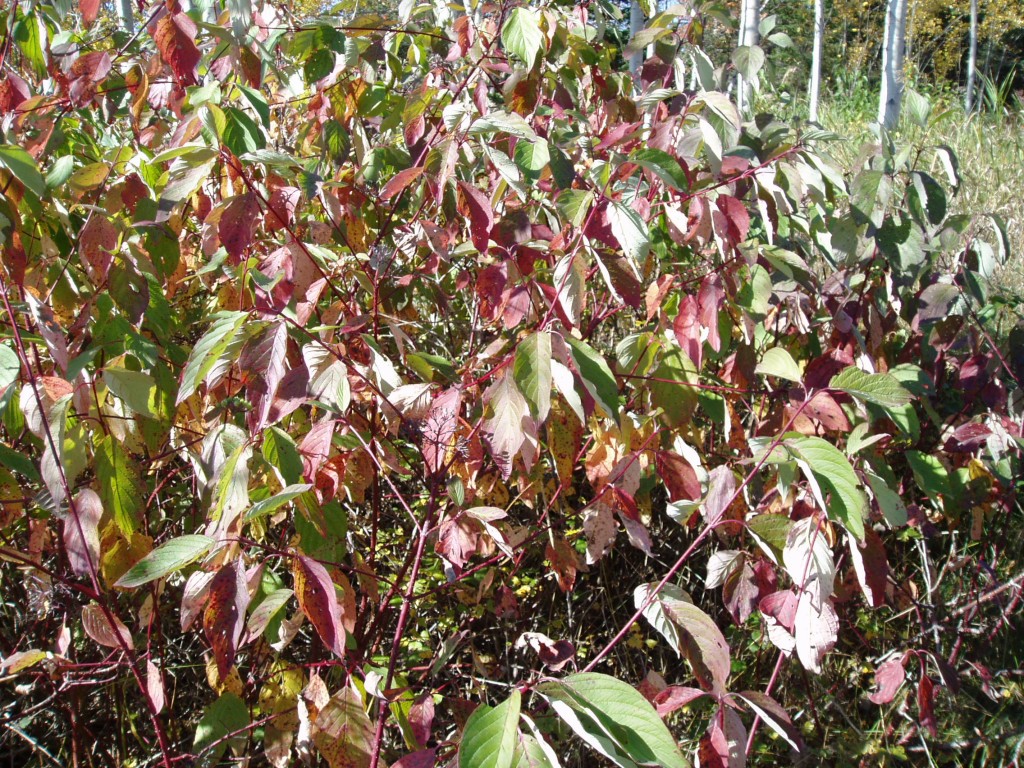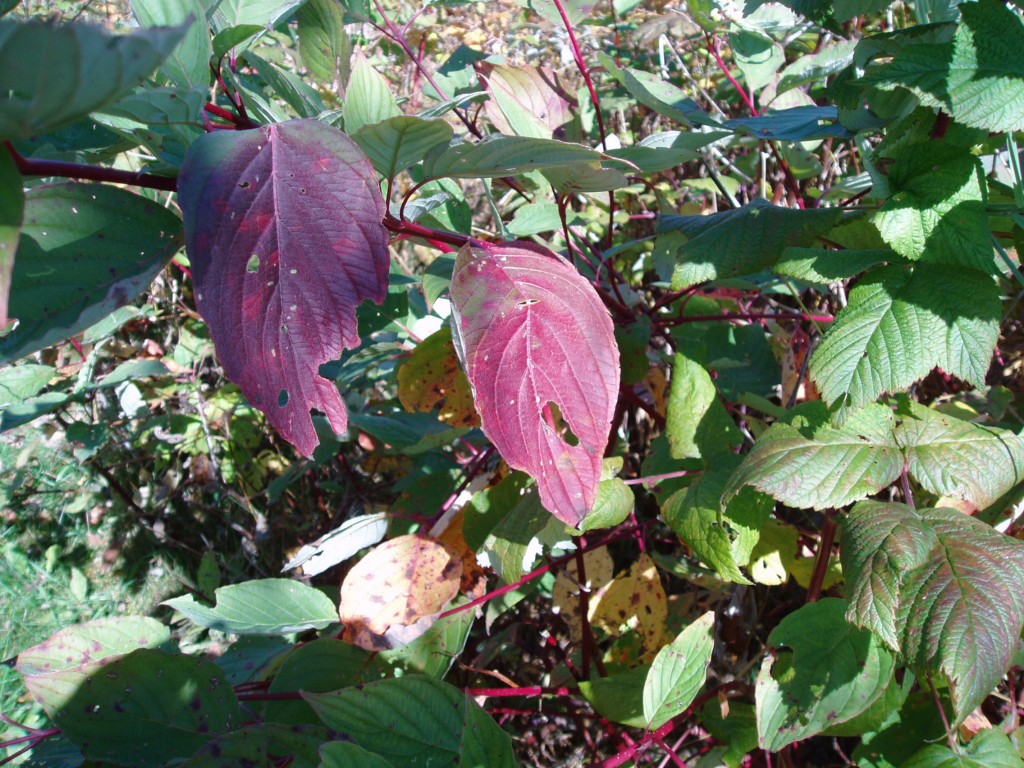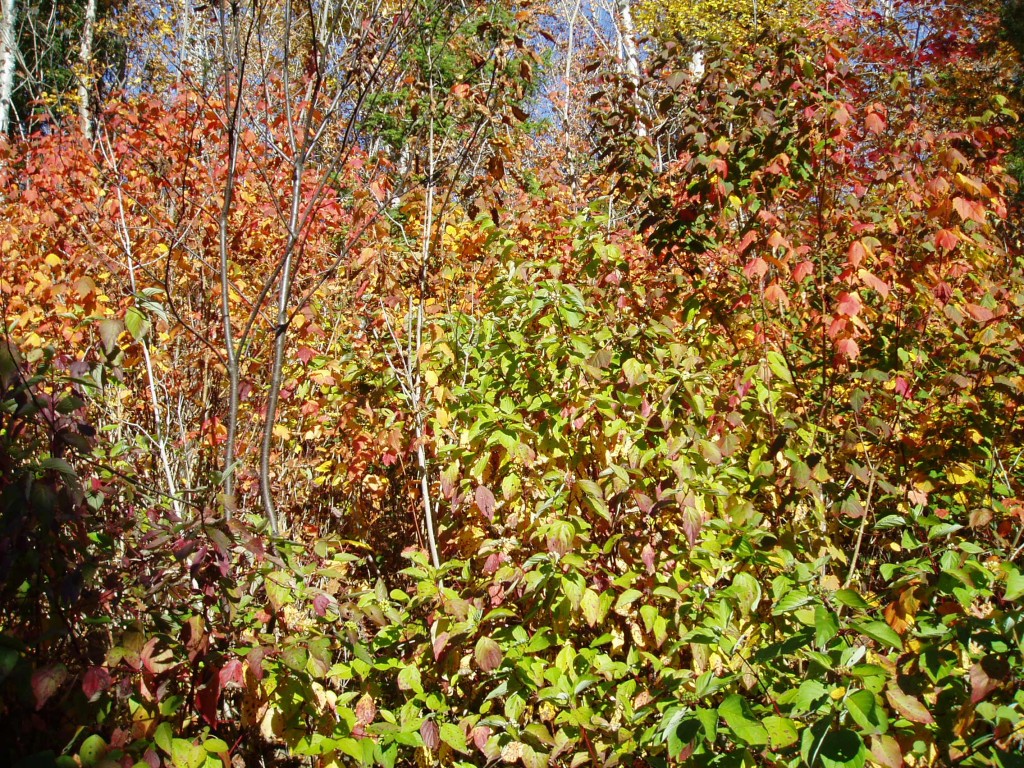 I decided to wear my moose-hunting scarf.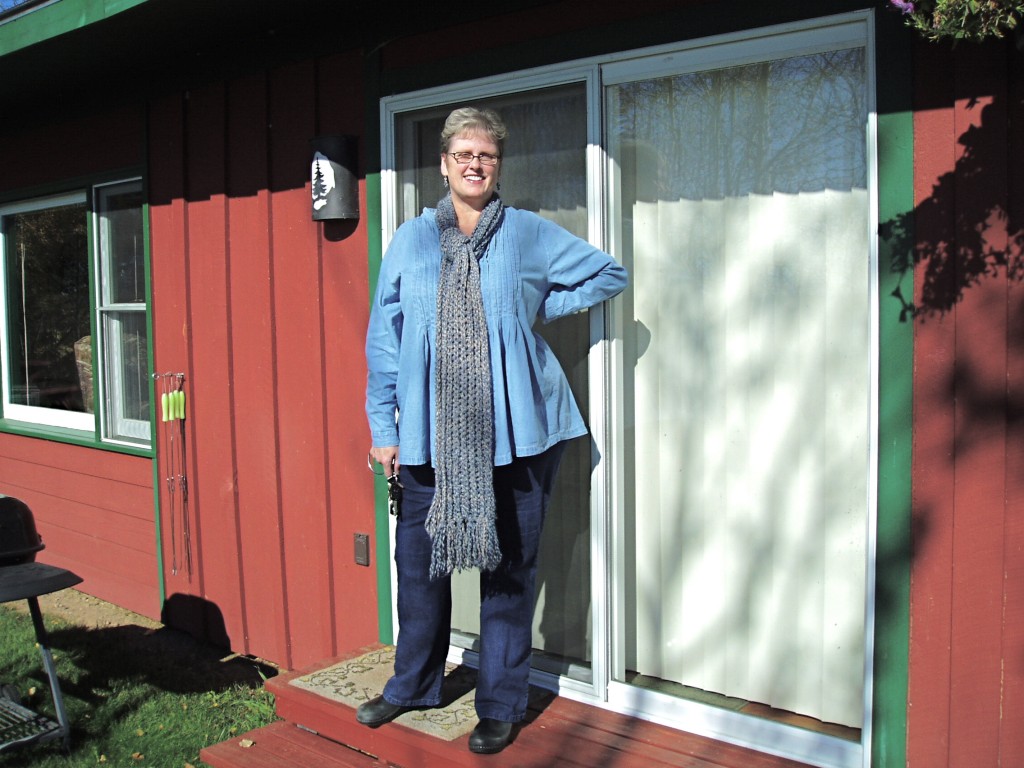 We opted to drive far up The Gunflint Trail, go looking for moose, and have a north woods lunch at The Gunflint Lodge.
About a third of the way up the Trail, there's a sign pointing to a parking area which leads to a hiking path that goes deep into the woods. These particular woods are known to be frequented by moose, and there's even a "moose-viewing platform" near an overlook on a small lake. We had no place we had to be, no phone calls to make, no schedule to adhere to, so we decided to search for some moose. Here's Michael at the beginning of the path: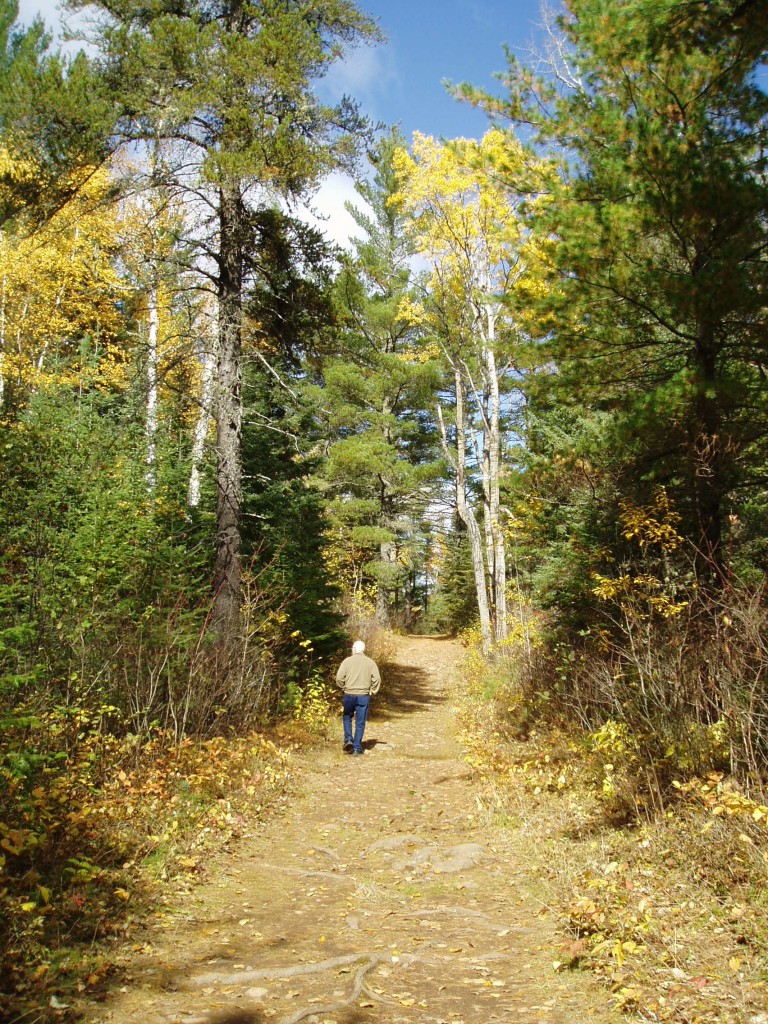 Not far from the moose meeting place was this plaque, telling us how to spot signs of moose: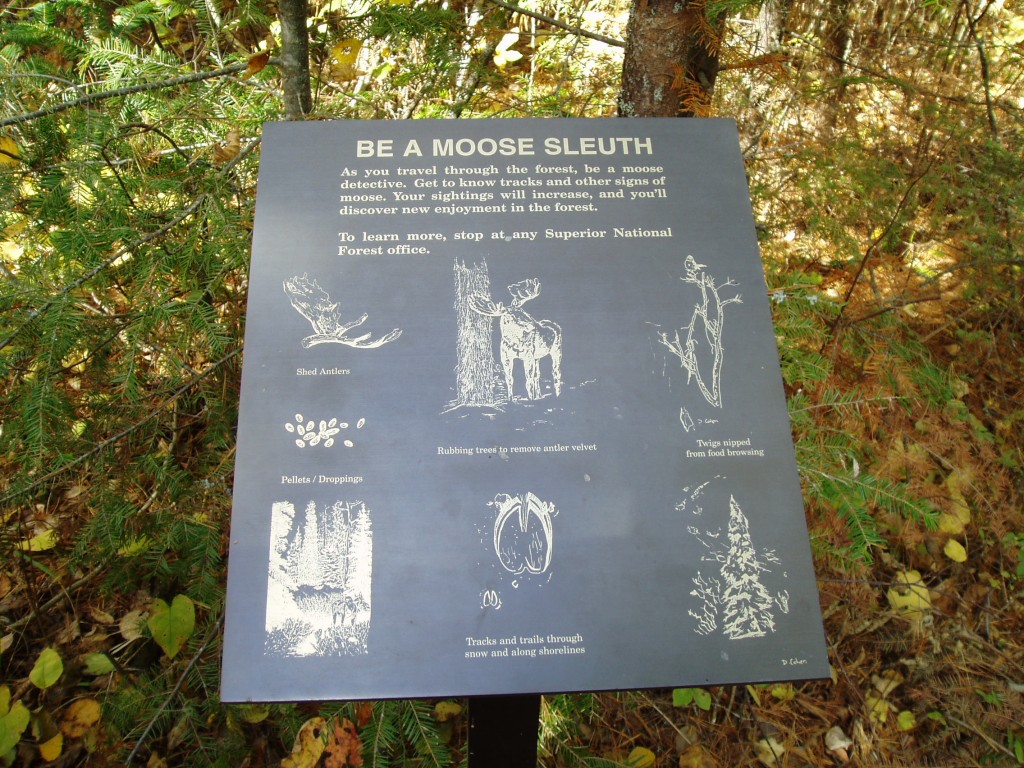 Then we happened to see an eerie sight off into the woods. It would have been easy to miss, and I gasped when I saw it. It was an old, ruined, semi-buried car, filled with what looked like decades of forest debris, and its doors were strangely open. (Update: A reader informed me that the car is a 1955 DeSoto Fireflite Coronado.) When we got home I showed the picture to Carolyn and she raised her eyebrows thoughtfully and said, "Hmmm, I wonder what is inside that car?" *Shiver*  A DeSoto in DeWoods. Yikes.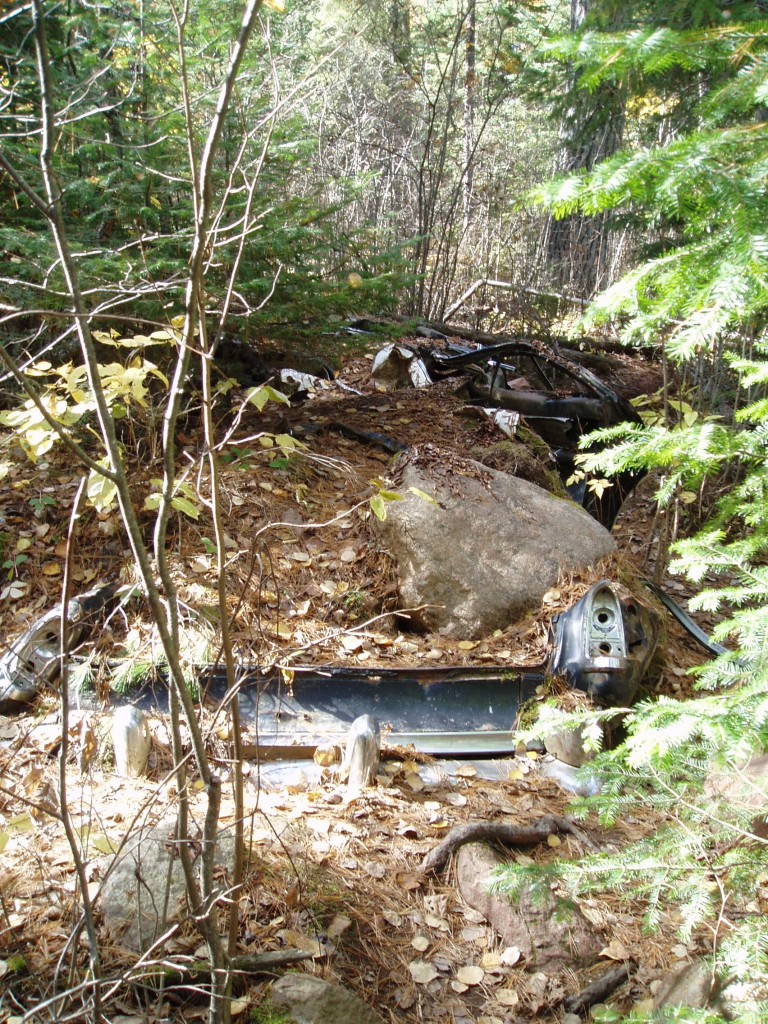 Below is a partial view of the swampy lake where apparently large numbers of moose congregate. We were standing on the wooden platform and could hear the wind in the leaves of the huge trees all around, the chattering of red squirrels and the calls of jays.
But we never saw a moose, much less a moose congregation.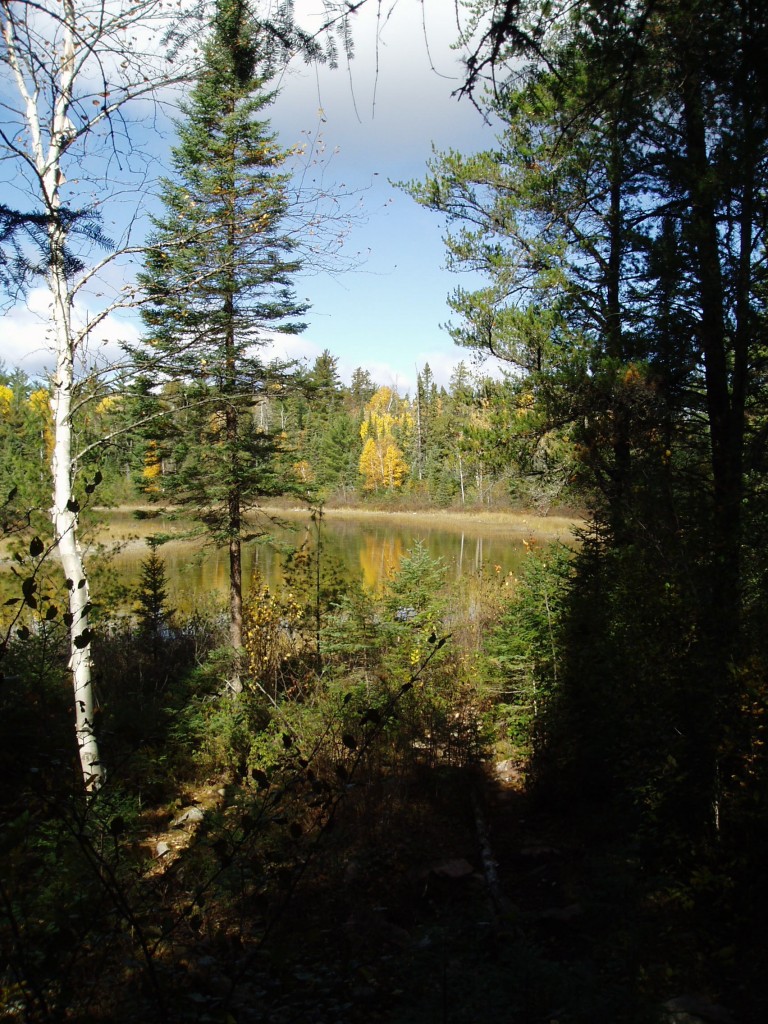 So, we enjoyed our walk through the woods, back to the car and drove further up the Gunflint Trail, oohing and aahing over the brilliant fall colors. I never get tired of them and I've lived here almost thirty years.
Gunflint Lodge is a long-established cabin resort on Gunflint Lake, and we stopped there for a hearty lunch. It was so hearty we didn't want dinner on Saturday night. Here's a distant view of part of the large lake. If you enlarge the photo you can see the napping ducks on the shore: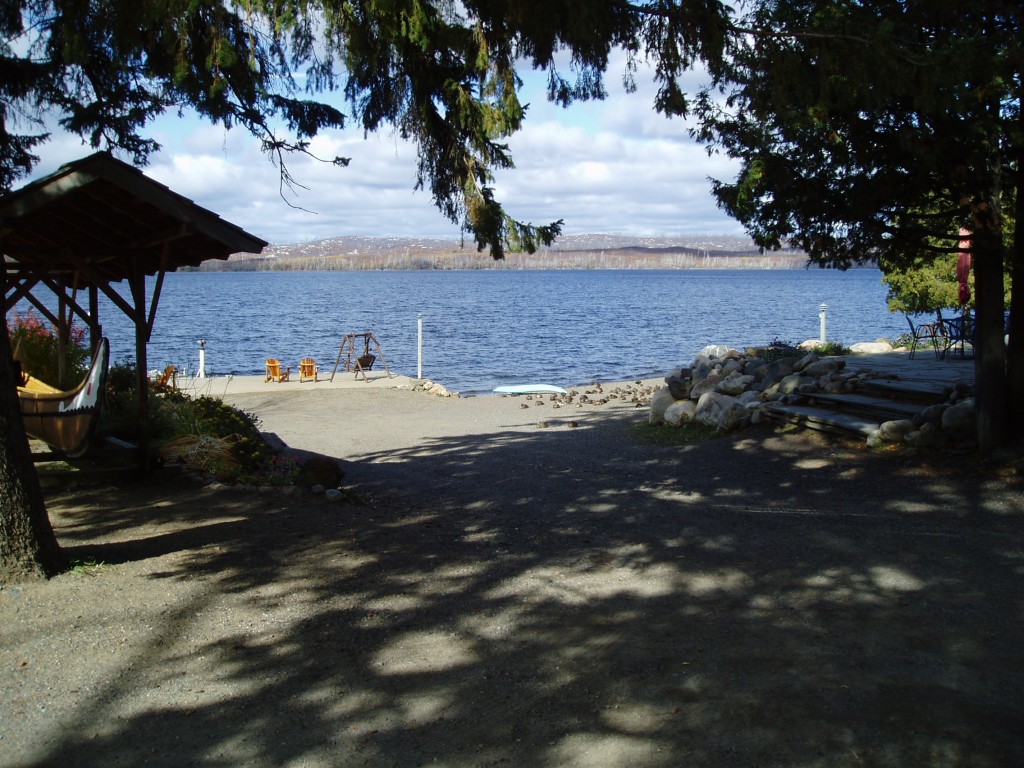 The Red Paddle Bistro at Gunflint Lodge is quintessential north woods. There were animal skins and a moose head on the walls, canoes hanging from the ceiling, and all the paraphernalia to make it seem like a true Voyageur's camp from long ago.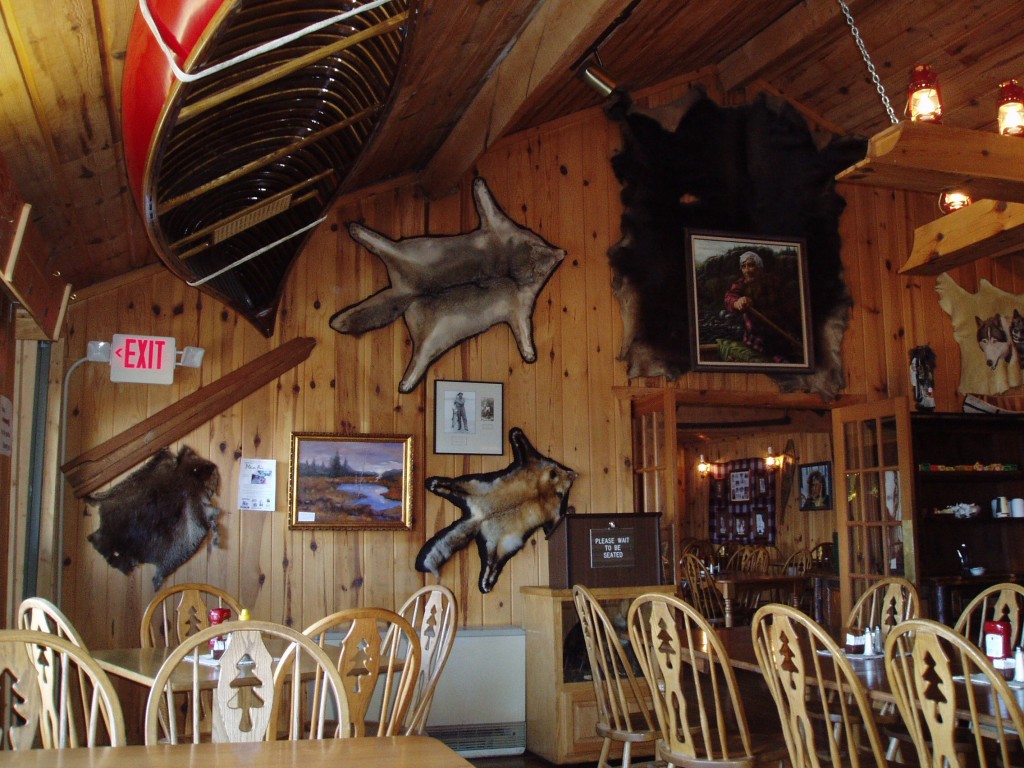 Michael loves to catch and eat walleye in almost any form, so he had the battered walleye sandwich with bacon, fries and a side salad.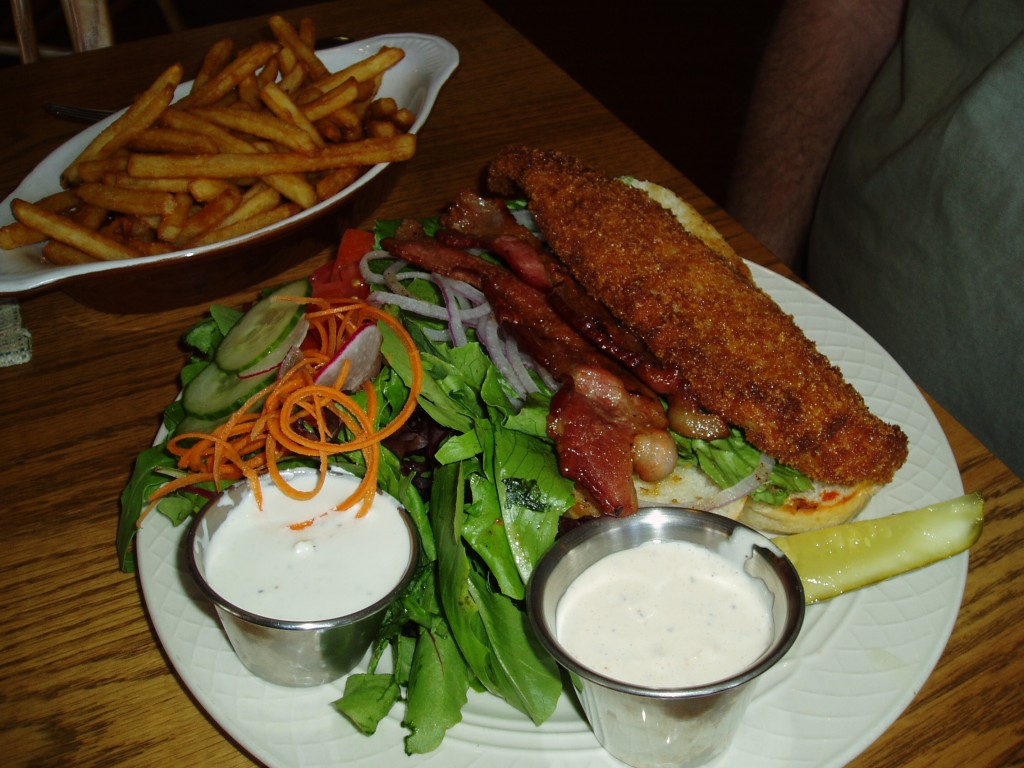 I had a wonderful salad composed of field greens topped with spiced pecans, fresh Minnesota blueberries, crumbled blue cheese, served with a maple vinaigrette dressing.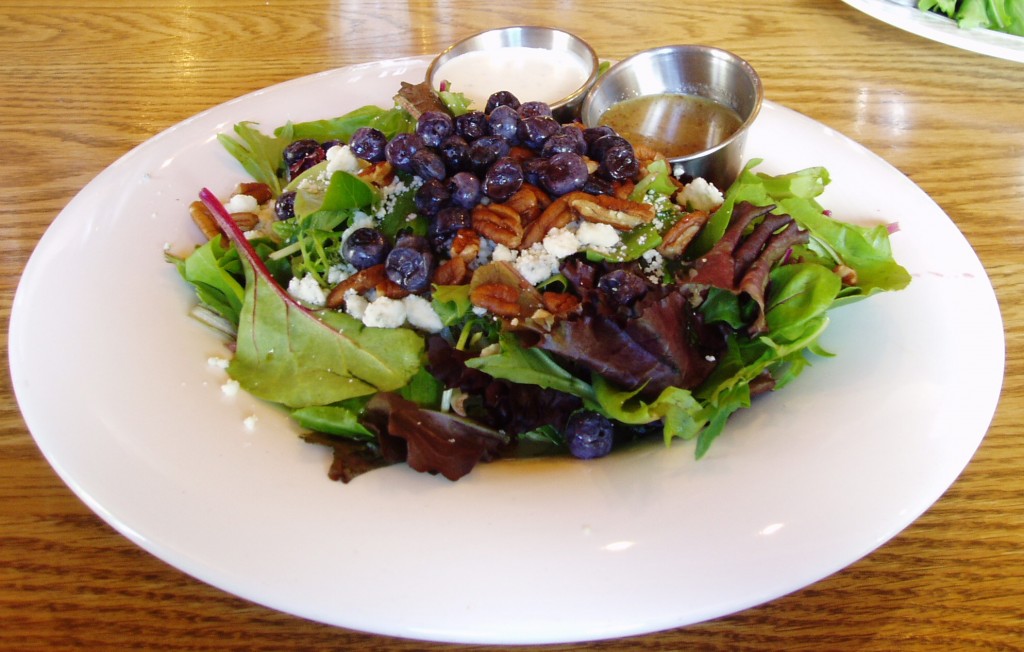 Back outside we fed a female mallard duck some cracked corn. I took this picture because I liked how the tips of her wing feathers matched the flowers nearby.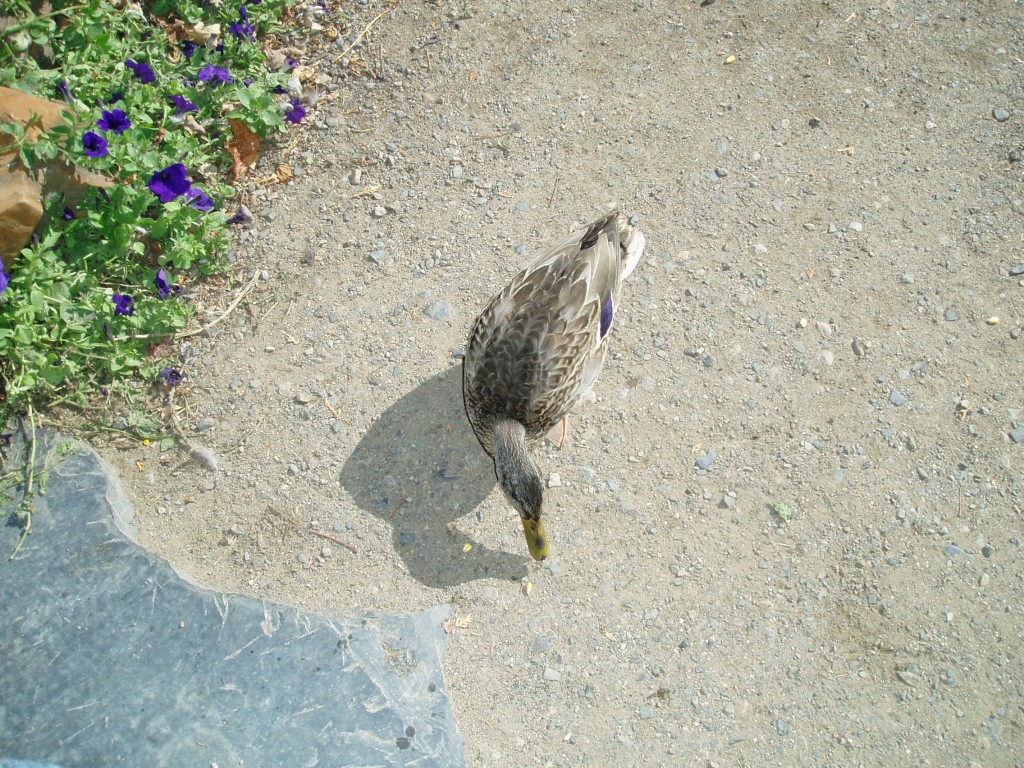 As we drove slowly down the dirt road away from the lodge and back to the Gunflint Trail, we saw something in a small crab-apple tree.
We parked the car and got out, hoping to get a little closer.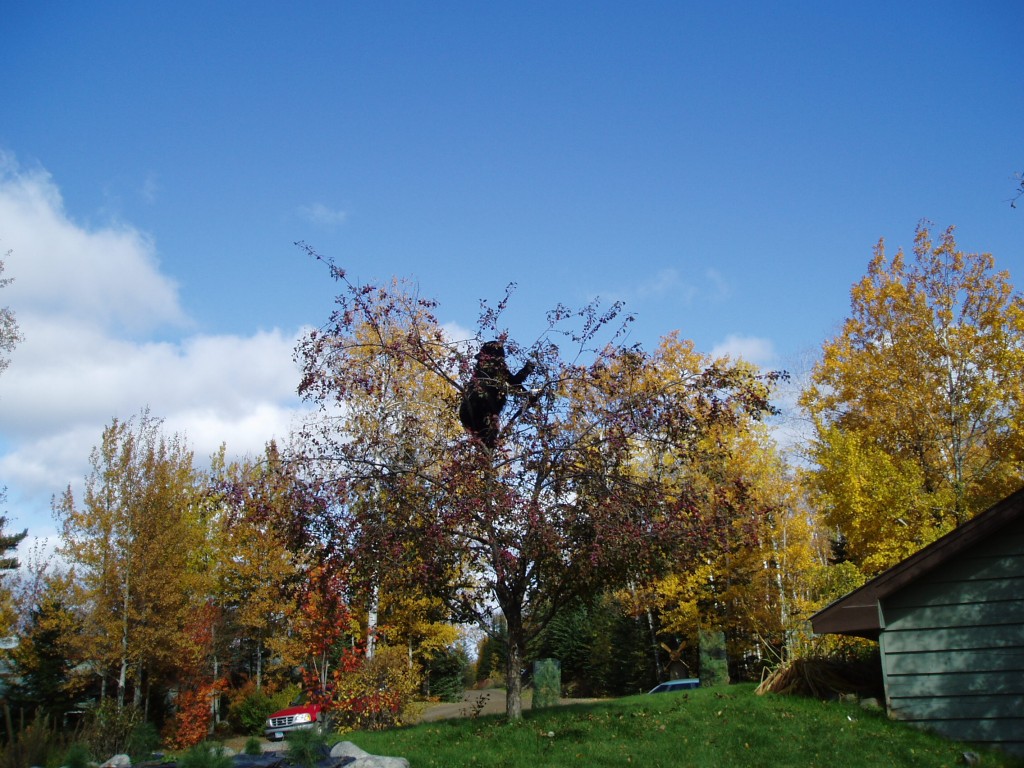 Sure enough, it was a medium-sized black bear, chomping away on the tiny crab-apples. We were shocked that he had climbed such a young, slender tree and it was actually supporting him without any branches breaking.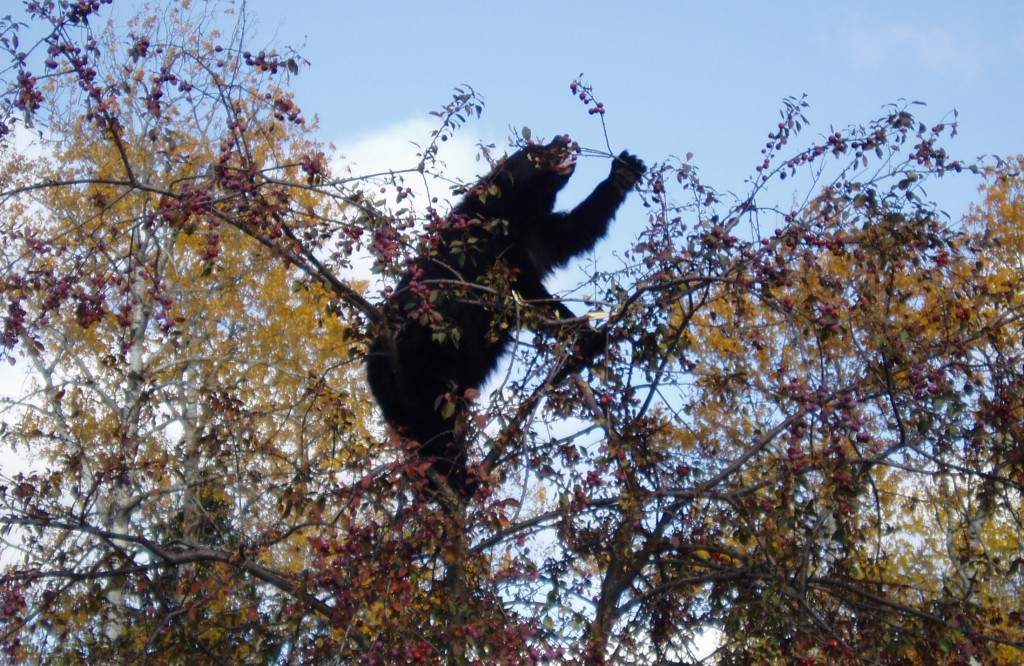 Closer yet. You can enlarge all these pictures by clicking on them — look at how dexterous he is with his paws and how much he seems to be relishing his autumn snack. Soon a half dozen other people had gathered and although we were all quiet and still, the bear finally noticed us, grunted a bit as he effortlessly backed down the tree, and sort of galloped off into the woods.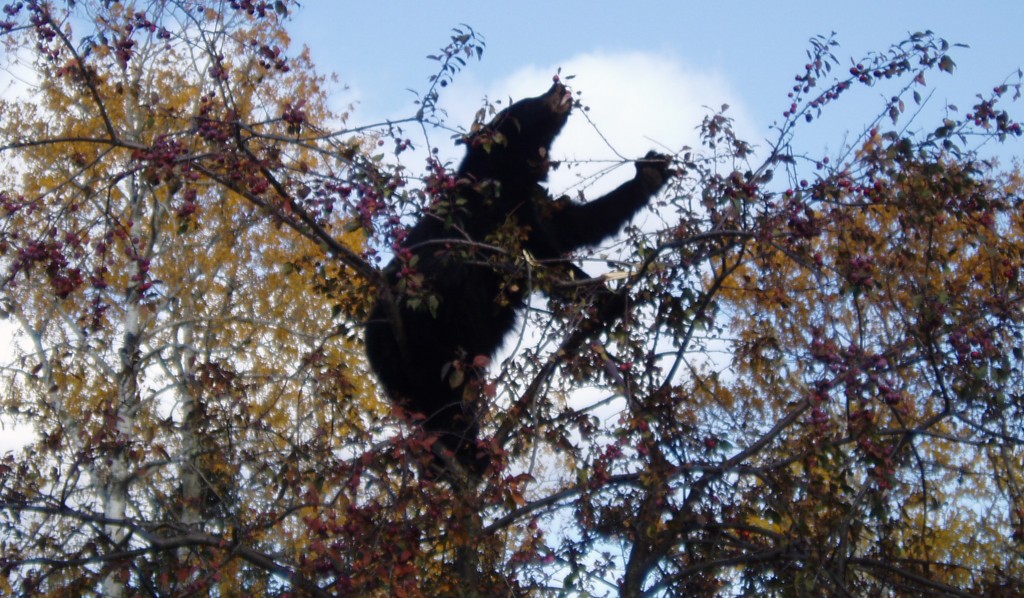 Well, at least if I haven't seen any moose, it was fantastic to see this bear, I thought. Back on the road, less than one minute later, a large timber wolf ran across our path into the woods. I tried hard to stop in time to get a photo and I did, but only the most observant and patient will see him. Enlarge the picture below, then zoom it with your computer if you can, and if you look to the left of the tall pine in the center of the shot, you might be able to see the tail and the back leg of the wolf, dashing toward the left of the scene. It takes concentration to see it, but it's visible.
Delighted that we had seen a wolf and a bear all within a couple of minutes, we turned onto the Gunflint Trail and headed back down toward Grand Marais. In less than a mile I spotted something trotting along the side of the road ahead, and as we approached we couldn't believe it. It was another timber wolf, a young one, and she seemed to have a destination in mind. Her ribs were showing and I wondered if it had been awhile since she had succeeded in a fresh kill. I slowed down, determined to get a picture this time, and right as I was about to aim I saw there was a line of cars behind me and I was holding them up. I sped up and held the camera with my left hand, hoping something of the wolf would end up in the shot. I was tickled that most of her did.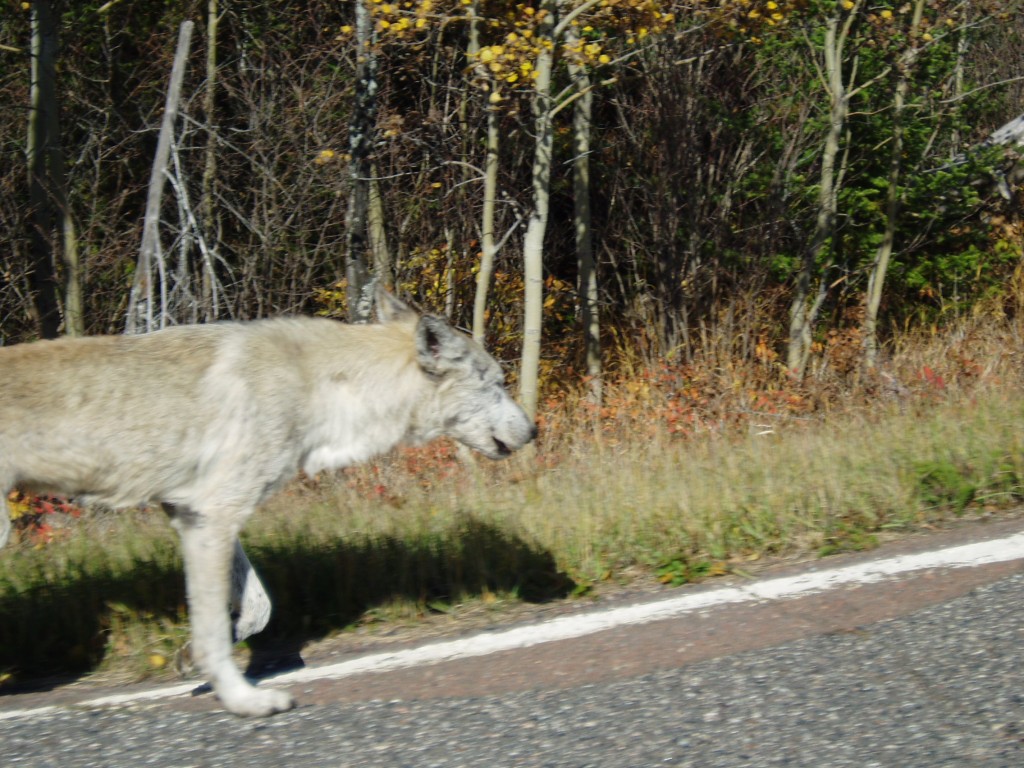 Back at our little cottage we got into our jammies (well, I did anyway — Michael doesn't wear or even own "jammies") and we read, played a game, listened to soft music, and turned in early. We were feeling a little wistful that we would have to be leaving for home before noon on Sunday.
As we were leaving the cottage I stopped on Croftville Road to take this picture of Lake Superior and its typical shoreline that always seems to combine tall pines, colorful birch and hardwoods, and rocks. The water in this lake is the best tasting I've ever had.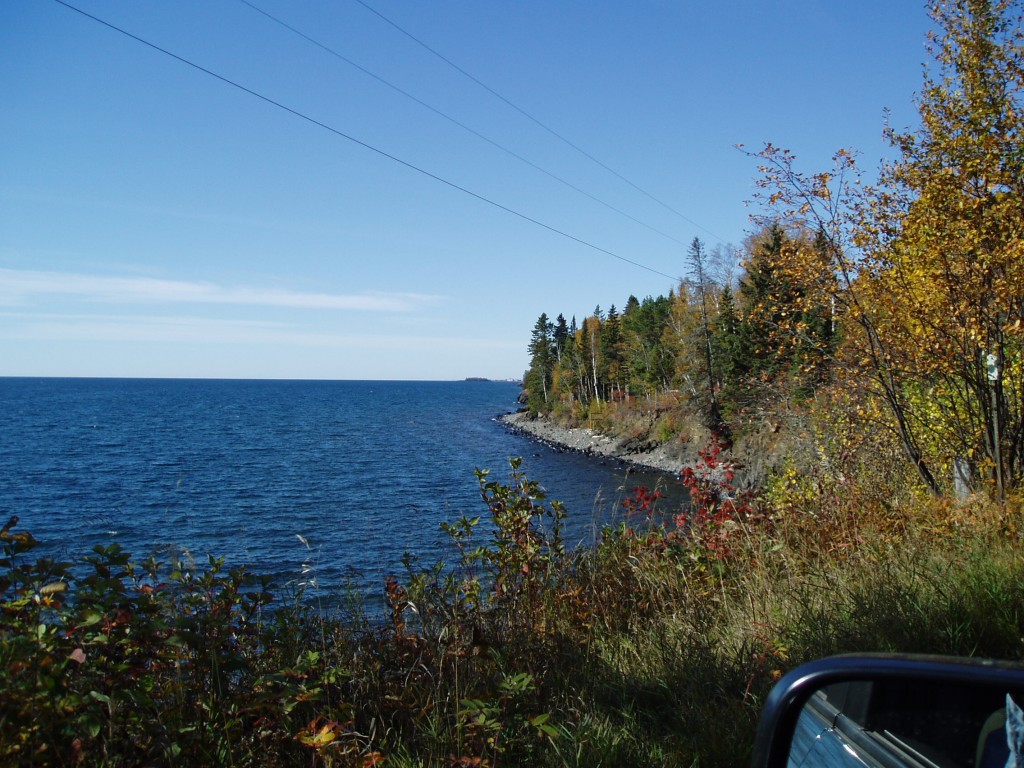 We're looking forward to our next time up the shore, which might be many months from now. As we drove home we continued to watch for moose on the sides of the road but we never saw one.
I thought that sometimes life can be like that. You want in the worst way to see a grand and elusive moose, and you even ask the moose's Creator to arrange it so you can spy one. You do your part. You drive to the local moose capital and start scanning. You drive deep into moose country and hike to a moose-viewing platform in the heart of known moose territory. And then you ask God to do the rest — the part you're unable to do. You ask Him to prompt a moose to go to the vicinity of where you are waiting expectantly.
And instead of a moose, you end up seeing a bear at close range gobbling crab apples. You see a female duck with iridescent purple wingtips and she'll eat corn from your hand. Instead of a moose you see not one timber wolf, but two, one of which jogs right alongside your car for as long as you're able to stay with her.
How many times have I asked God for one thing I really wanted badly, only to receive something I didn't want nearly as much, but later saw the blessing of? Too many times to count.
So God hid His moose and showed us His bear and His duck and His wolves instead.
We'll go looking for moose again someday, but right this minute as I type this, I'm thankful and thrilled with what we saw.
Have you ever asked God for a moose and gotten a duck or a bear instead?