Keep on praying for all the Lord's people…
If you have visited my blog regularly, you may have come to recognize some of the names of the friends who comment here. It always makes me happy when a commenter acknowledges another person's comments or offers encouragement. I've seen this happen on other blogs as well, as if a tiny community of people who haven't met springs up under His name and love.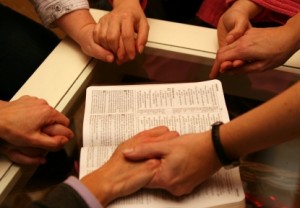 Today I'm going to share a prayer request with you, from my dear friend Kay who lives in Cornwall, in the south of England. She and her husband Alan are sincere believers who live a quiet life, face some serious health problems with cheerfulness and trust in God, and who have recently gone through a very difficult thing. With her permission, here are Kay's words:
'I believe that the enemy strikes out at us in various ways. In my experience I've found that he tends to spot my weak points and attacks them one-by-one. In the past I've been attacked financially, through bullying at work, health issues and loneliness, to name a few.
However the latest attack is related to a tradesman who has taken £865 from us and has not done the work. He has given us EIGHTEEN excuses and has had three phone calls from the police about this matter, and still he continues to dangle us on a string, so to speak.
Because this is basically a civil matter, we could take months pursuing this debt and still end up with nothing in return.
We have lost a large amount of money and although we are not rich, to be totally frank, God has indeed provided us with all we need. So, in a way, it's not so much the amount of money that hurts, it's more that I feel that my husband and I have been taken for fools. And I know that is a pride matter which is sin. But, even though I know my error, it feels like my 'spark', my joy, has been taken from me. I have suffered depression in the past and right now I can feel it's trying to overcome me again.
I don't ask for prayer for the return of the money, I ask for prayer for protection against depression.'
So, dear readers, will you pray for Kay and Alan? I am praying not only for what Kay has requested — that her joy and spark would return, but that this money stolen from them will be repaid.
I invite you to leave a comment to let Kay know you'll be praying, even if it's just a word or two. Or maybe God will impress a scripture on your heart to share with her….
And pray in the Spirit on all occasions with all kinds of prayers and requests. With this in mind, be alert and always keep on praying for all the Lord's people.  Ephesians 6:18
Thank you and God bless you all….