Into the Silence — Part 2
She wakes after a decent sleep, and thinks it must be close to 5:00 a.m., which would be just fine. She gets up and looks at the digital clock in the closet with the flashlight. Three thirty-eight in the morning. She moves around quietly, lights candles, pulls back the curtains so she can welcome the sunrise. She steps out onto the screen porch to get what she needs to make her cold brew concoction, and feels the thirty degree temps. Closing the door quickly, she throws a pashmina scarf around her head and neck until the hermitage warms. She throws caution to the wind and sets the thermostat at 72 degrees. Her feet are chilly so she pulls on SmartWool socks before slipping her feet into her moosey Acorns. Rocking, sipping, waiting, giving thanks.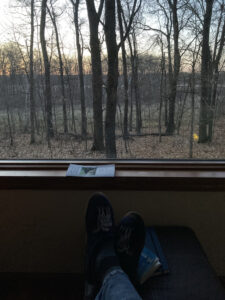 As the sun rises she can hear their cries and puts on her glasses to peer in the distance. Sandhill cranes, flying, landing, gliding across the water of Tamarack Lake, just visible through the trees. She tries to think of how their calls could be described in words, and settles on corrugated bicycle horns, knowing the adjectives and the noun don't really fit. But that's how the cranes sound to her. She can see the white wakes they leave in the water if she squints her eyes.
She reads and rocks, writes and prays, turns down the thermostat, dresses for the day in jeans and a warm navy turtleneck. No one is there to care, so she doesn't use the knife in the cupboard to slice her bread and cheese and apple. She breaks the bread, tears off a corner of the cheese, and blesses good teeth as she bites into the juicy apple and murmurs mmmm. Thank you Lord. Such a feast you've provided. Give us this day our daily bread. Why do I ever take more than my daily bread? Why did my whole family take more than their share? What is the problem, Lord?
She turns to the sixteenth Psalm and reads it aloud, letting it soak.
"I bless the LORD who gives me counsel;
in the night also my heart instructs me."
She reads the footnote and sees for the first time ever that the original Hebrew really says, "in the night also my kidneys instruct me." How do kidneys instruct, and what do they say? That will be one to study when she gets home. Kidneys have certainly taken center stage in her family these days.
As the morning passes she reads every instance in the Gospels of Jesus taking a small amount of bread, giving thanks for it, breaking it, and distributing it to thousands of hungry people. And how each time baskets full of leftovers are collected. Such familiar scripture. She notes the details of each account, wondering, praying, asking for a word from that very same Jesus. The word that seems to slowly and eventually float to the surface of her murky mind is offer.
Offer. Offer? She writes it down and knows she will go home and look up the places in the Bible, especially in the Greek, where the word offer or offering is used. Offer. What can I offer you Lord?
I offer myself. I offer my praise. My family. My thoughts. My money, which of course is really yours. I offer my home. I offer my sorrow. My past. My time. Will you help me not take any of it back, Lord?
Offerings. There were so many kinds in the Old Testament. All of them placed before God, on the altar. She remembers years ago when she drove up the north shore of Lake Superior, staying in a place overlooking the water, to get direction about two matters. The Lord had impressed on her then that whatever was placed on His altar was safe.

The next words that seem to blink over and over in her mind are from the places where Jesus simply says, "Bring them here to me." What resplendent, glorious, hopeful words are those!
"Bring them here to me."
What or who is brought to Jesus? she asks. Sick people. Outcasts. A few loaves of bread and a couple of fish to feed thousands of people. Unclean people. Children…Jesus wanted children brought to Him. A paralytic. Whatever was brought to Jesus was changed. He multiplied. He cleansed. He made whole. He nourished. He did what needed to be done. And He had/has the power to do it all, because He is the Creator of the whole universe, fills it up with Himself.
"Bring them here to me."
That is prayer, bringing all and everyone to Him, humbly placing them at His feet and asking. Looking into His eyes. Trying to trust in His timing and will. Once again she writes every name of those she loves, tearfully and slowly bringing each one to Jesus. Here he is, Lord. Here she is, Lord. You alone, Lord Jesus.
The sun is high and she gets up to open the windows. Canada geese fly and honk overhead. The fresh air swirls in. It's time for a walk. She laces up her boots and sets off through the trails. Every step is a crunch of fallen oak leaves, and she looks for a perfect acorn to pick up, recalling the saying about how an entire forest is found in one acorn. She loves that about God. Abundance and growth and shade and life from one seed. And He's not in any hurry, she thinks. Lord, teach me your rhythms and routines. Help me breathe deeply, trust you fully and commune with you more than I do.
Five minutes from her St. John the Beloved hermitage, she gasps and is startled by a snake on the path, right in front of her feet.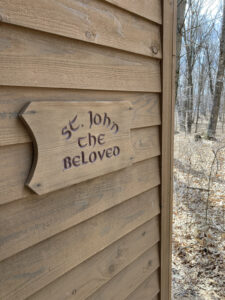 She slams on the brakes and her recently broken toe jams against the hard end of her boot. A lightning bolt of pain. It's then she can see that the three-foot garter snake is already dead, its head presumably crushed by the staff car yesterday, after delivering her bags.
The body of the snake is curved as in movement and only its head is flattened, its mouth open, revealing its red tongue. She looks for meaning everywhere. Is this a message for me? That on the first full day of my silent retreat, I see that the serpent is dead, head crushed? She knows the verse in Genesis regarding the serpent/devil reads, "…He shall bruise your head and you shall bruise His heel." Do I need a reminder, Lord? She takes a good look at the striped green and black snake before walking on, stores the thoughts in her heart, and begins to limp as she goes. The toe is worse; re-injured perhaps. No matter.
She takes her time and walks through the woods to the prairie, too early to be filled with the wildflowers she's seen in the photos. She approaches the huge wooden cross, closes her eyes and puts her hands on it, trying to picture what the Marys and John must have felt when they saw their Master there. She knows she can't even come close in her imagination. She slowly winds her way to the lake and walks out on the floating dock to sit on the wrought iron chair at the end. The cranes are gone for the day, but she can see the pale green, twisting lily pad plants beginning to grow under the water, two feet from the surface. She knows this shallow lake will be covered with lily pads come full summer. She watches water bugs skim and occasional bubbles come from under the water, and thinks about how God has His eyes on it all. After an hour she makes her way back to her temporary home in the woods and takes off her boots. Yes, the toe next to the little toe is badly swollen and is a darker purple. The top of her foot below the toe is bruised. It will heal.
She washes her hands over the metal bowl on the table, then unwraps the bran muffin with the gooey dates and toasted nuts. She pulls pieces off and savors them, thinking she should ask for the recipe. Not usually one who thinks twice about muffins, these she would make, especially for Lloyd, who has a cup of coffee and eats a muffin of some kind in his Chevy Silverado every time he drives the hour to her house. When all that's left of the muffin are a few crumbs on a paper towel, she gets up and finds the small pad of paper in the closet. The Pacem folks have told her to leave a note in the mailbox to the left of the door if she needs anything. They drive to all the hermitages at noon to check on hermit requests. She asks for one delicious muffin, writes her thank you, and folds the paper before placing it under the stone in the mailbox. At 12:05 she hears the footsteps on her porch and then the car driving on to St. Dominic.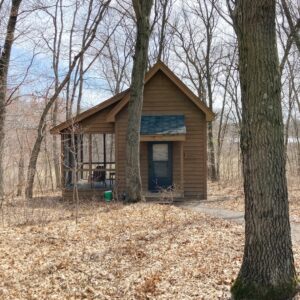 At 1:30 she looks outside and finds a canvas bag hanging from the mailbox, with a saran-wrapped muffin inside. The note says, "Please enjoy this treat from your Pacem friends. Know that we are praying for you." She puts the muffin in the basket and decides to save it for the next day.
She closes the windows of the little dwelling and decides to try to nap. Many hermits sleep when they come to this place of silence and rest, not being fully aware of how exhausted they are. She doesn't feel physically exhausted, but she has always wanted to be a napper, so lies down on the bed and closes her eyes. Just like at home, sleep doesn't come, but she's aware of her breath and thanks God for the gift of all the things that make up this moment. Fresh air. Comfort. Warmth. Family at home caring for her foster resident. The sounds of nature all around and ears to hear. New mercies every morning, sorely needed and gratefully received. Quiet. Beauty. Hope.
Dinner is a banana, some cheese and half of one of the whole wheat boules. A steaming cup of Lipton tea. She wishes some big creatures would pass through the woods. Squirrels and birds are lovely, but wouldn't a moose be the ultimate? They don't live this far south, she remembers. A deer, perhaps. They're practically on every block back home. She has heard coyotes howling out here before, wouldn't that be amazing to see one trotting by? Or a fox. Or what about one bright cardinal?
She feels a tiredness settle over her, remembering how early she was up this morning. Maybe tonight she'll sleep longer. Teeth, hair, face, flannel nightgown, candles blown out. All is silent. She hears the clicking of the wall heater as it goes on. She pulls the covers up to just under her nose as she does at home, prays to the God who made her and sustains her, and sleeps.
When her bladder announces itself, she gets up and shines the flashlight on the digital clock in the closet — 5:30 a.m. How wonderful it feels to have slept so late. She will be going home today.
She lights a candle, makes her cold brew concoction, and settles in the rocker to watch the woods wake up. She peels an orange and eats it slowly, listening to the Sandhill cranes on the lake. After a long time in silence and with elevated yet slightly sober thoughts, she gets dressed for one more walk. She washes her face and brushes her teeth before setting out, and breathes in the cool, fresh air.
She thinks she should have been a dendrologist, with the way trees delight and fascinate her, the way she can't take a single walk without pausing to look a dozen times at swirls in bark, or at trunk and branch silhouettes and patterns against the sky. Every tree is a miracle, has influence, accomplishes much that is vital, yet mostly unseen. She knows birch trees especially clap their hands in praise, and they always ask her to join them if she's nearby. She doesn't clap her hands much anymore, but praise is always there inside. A remnant from Michael.
She doesn't know the poem by heart, but so much of Wendell Berry reaches deep, and she finds it later:
"I part the out-thrusting branches
and come in beneath
the blessed and the blessing trees.
Though I am silent
there is singing around me.
Though I am dark
there is vision around me.
Though I am heavy
there is flight around me."
Once back in St. John the Beloved, she begins preparing the hermitage for its next guest. She changes the sheets and towels, makes up the bed, fluffs and places the pillow. She boils water to wash the dishware she's used, sweeps the floor, wipes everything down. She packs up all her things and places the two bags on the front porch, then returns to rock for a while before walking up to The Big House. She prays for the next hermit, asking God to bring His peace and healing to her or his life and family. That they would have His joy and rest.
She turns on her iPhone and texts her husband to let him know what time she'll be out of the woods, waiting on the bench by the Big House, ready to return home.
She opens all the curtains, closes and locks the windows and the porch door. Turns to look one final time at this little piece of Heaven, and wishes she could come and stay more often.
This autumn perhaps. When the nights fall early and cold, and the leaves blaze.