I used to believe…
One of the decorating blogs I read occasionally had a fun post recently, and I liked it so much I thought I'd do a post like it here. Have you seen this website called I Used To Believe? It's about the funny and bizarre things we used to believe as children.
Here are a few things I used to believe:
When I was a child, I believed that our bodies grew larger and taller because they literally filled up with food. I thought that if you ate something as a baby, that food would be deposited in your feet. And then all subsequent food eaten would slowly fill up the legs, the trunk, the arms and the rest of the body, and when all that accumulated food reached the top of the head and couldn't find any more room, the body stretched and grew.
When I was a child I believed that the past tense for the word cost was costed. I think I said things like "that record costed $1.06" until I was close to 5th grade.
When I was a child I believed that when my oldest brother Larry would take me to the beach in his Corvette, if I sat up high on folded towels in the passenger seat next to him, people would think I was his girlfriend. Never mind that I was 8 and he was 23 — I was convinced that the folded towel trick would make me look like his date.
When I was a child I believed that most villains in the world looked like stooped, wizened old men carrying big burlap bags. The bags were to put kidnapped children in.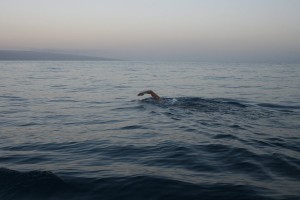 When I was a child I believed that if I swam out into the ocean as far as I could, way past the breaking waves and out into the deep water until I could barely see the people on the shore, that very point would be a mile. And during my growing up years in southern California, I did this every chance I got.
When I was a child I believed that babies came to families because the mommies and/or daddies prayed for them, and God graciously answered. When I was little my mother told me she prayed for a little girl and that God sent me. I loved that idea. I still do.
What did you used to believe when you were a child?