His Hem
My daughter Sara went to New York recently with two friends, Jenna and Jill. They were able to attend Easter services at The Brooklyn Tabernacle. While in New York, they were in another church that had many of Ron DiCianni's paintings hanging in the foyer. One of his works called "Divine Healing" really touched Sara, and she came home and told me about it.
I looked it up online and as I studied it, my eyes filled with tears. I found a video of the artist talking about this painting and he said he intentionally made the woman in the scene look more like a modern woman. She has a current hairstyle and clothing, and if you look closely you can see she's wearing a watch and a cross necklace. The message is clearly that the mercy and power of Jesus was present for those who saw Him walk the earth, and it is present for those of us who walk in faith without seeing Him today.
From Luke, chapter eight:
40Now when Jesus came back [to Galilee], the crowd received and welcomed Him gladly, for they were all waiting and looking for Him.
41And there came a man named Jairus, who had [for a long time] been a director of the synagogue; and falling at the feet of Jesus, he begged Him to come to his house,
42For he had an only daughter, about twelve years of age, and she was dying. As [Jesus] went, the people pressed together around Him [almost suffocating Him].
43And a woman who had suffered from a flow of blood for twelve years and had spent all her living upon physicians, and could not be healed by anyone,
44Came up behind Him and touched the fringe of His garment, and immediately her flow of blood ceased.
45And Jesus said, Who is it who touched Me? When all were denying it, Peter and those who were with him said, Master, the multitudes surround You and press You on every side!
46But Jesus said, Someone did touch Me; for I perceived that [healing] power has gone forth from Me.
47And when the woman saw that she had not escaped notice, she came up trembling, and, falling down before Him, she declared in the presence of all the people for what reason she had touched Him and how she had been instantly cured.
48And He said to her, Daughter, your faith (your confidence and trust in Me) has made you well! Go (enter) into peace (untroubled, undisturbed well-being). The Amplified Bible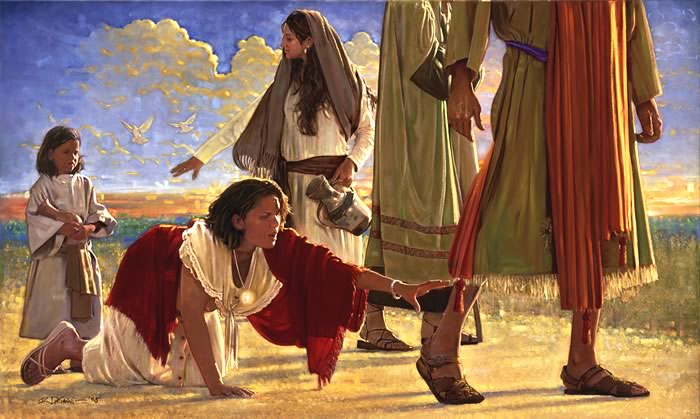 The rest of the story is that Jesus healed this desperate woman, then raised Jairus's daughter from the dead that day as well.
Jesus brought hope and mercy to women who had been disdained or given up on by their society. Prostitutes, empty, immoral women, ceremonially unclean women, poor, neglected women, demon-possessed women, widows. He was scandalous in the way He took time with them, sat at the same dinner tables with them, elevated them and restored their dignity, respected them, healed them and gave them hope and power to follow Him and live differently.
We can't see His face here in this picture, but just the sight of His sandaled feet makes me cry. "Heaven is His throne and the earth His footstool" (Isaiah 66:1) — in this painting, those feet are now pausing on the way to Jairus's house, turning slightly to see who had touched His hem and why.
No one else could do a thing to help her. Money couldn't buy what she needed. But when she reached for the hem of His garment, everything changed.
I may not have the same needs that woman had. My culture may not dismiss me as hers did. But I believe we all need things that only Jesus can give to us.
In faith, I am reaching for His hem today. What about you?