Gentle and Sprightly
Yesterday was an errand running day, and there's nothing like an errand-running day to make a closet agoraphobic feel giddy about a free day at home. With the exception of picking Michael up from the bowling alley in about an hour, I can have a quiet time inside today, tending my house, doing my CBS lesson and sipping a cup of tea, and that always makes me rejoice. On Thursdays Michael bowls in a pastor's league with a friend of ours who is a pastor. Michael isn't a pastor, but they let him into the league and he looks forward to it every week.
One of yesterday's errands was to buy myself a new cell phone. I've had my current cell (do you UK folks say mobile?) for years, and it started misbehaving on me. I haven't been anxious to jump on the iPhone bandwagon, but over the last few weeks I've sort of moseyed that direction in the compartment of my mind labeled What Kind of Cellular Phone Should I Get Next?, and yesterday I came home with an iPhone 5. That compartment of my mind is now closed.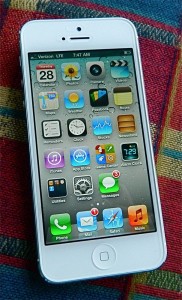 I don't know too many people who don't love their iPhones, but the jury is still out for me. I know I'll sound like an Apple heretic with that comment, but I'm still adjusting to what feels like the hugeness of it compared to my other smaller phone with the nice QWERTY keyboard. Now it sort of feels like I'm talking into a plank. And apparently I have bratwursts for fingers and never noticed this before — typing out texts is an exercise in patience as I carefully, gently tap letters like S and R and E and letters like W and K and Z appear on the screen instead. I'm also adjusting to the heft of it, even though it's supposed to weigh less than previous iPhones.
I am very happy with our Apple computer and with my iPad, but I'm still wondering if the iPhone is a true fit for me. I guess it will have to be for the next two years, because that's the length of the contract our carrier requires.
What I do like about it are the really important features, which are apps like Words With Friends, Hanging With Friends and Sudoku. Oh, and Google Earth, Cribbage and Angry Birds. 🙂 And I'm going to try this app, which has been highly recommended to me. Do any of you use it?
Once I decided to get an iPhone, I knew I would need some sort of case to protect it. I didn't want one of those squishy rubbery gel cases like these. And I didn't think at my age I should carry around a phone that looks like this. What to get, what to get, I thought to myself…and then it just came to me, like a lightning bolt from the sky. (By the way, have you noticed that a lot of people are spelling the word lightning — as in thunder and lightning — "lightening" lately? What's up with that?)
And here's my new iPhone case.
This cardinal case that snaps snugly around my iPhone mitigates much of the bother of adjusting to my new phone-that-feels-like-a-barbell, and makes me feel like I'll eventually like it all right. (You can click on the photos to enlarge if you like…)
I also enjoyed a delightful time with my dear friend Carey yesterday. We celebrated her November birthday three months late by having lunch together at a local Japanese restaurant. Shrimp and vegetable tempura, California rolls with pickled ginger slices, miso soup…very delish. Our time went by so quickly I was only able to talk one of her ears off. She emailed me today to see if we could have tea together soon, so apparently she's not in the least bit worried about her other ear.
Last night, we took our Fosters out to dinner and a movie, and per a friend's recommendation, we saw The Impossible. What an intense, eye-squinching, jaw-clenching movie! One of our gals asked on the way there, "Is this going to be a happy movie?" and I wasn't sure how to answer since I didn't know much about it. In the middle of the film while I was gripping the seat's armrests with all my might I thought to myself, "Well I guess this isn't a happy movie." It was a hard film to watch, but it did have an amazing ending and I'm glad I saw it. If you'd like to see the trailer, you can click here.
And lastly, I have a friend named Lloyd. I've only met him once, but I feel like I know him because I've read his books and I also read the superbly written Hole News he sends out to a few hundred people several times a week. Be sure to look for the posts that say "grandpalloyd" on them if you visit. At ninety years old, Lloyd's body is slowly wearing out but his mind is as sharp and curious as ever. His ponderings on his Christian faith, on science, and the mysteries that sometimes seem to make the two incongruous, always make me think. Lloyd gave me a compliment recently that took me by surprise, and called the writing on my blog "gentle and sprightly."
Hello?
Uh…gentle? Sprightly? I had to look sprightly up: "Full of spirit and vitality; lively; brisk." I think anyone who knows me might stifle a wry smile at those words because while Lloyd might think my words are gentle and sprightly, I am not. But it tickles me that he thinks my words are.
I would like to be more gentle and sprightly, though. Perhaps the Lord will finish His good work in me before I die (see Philippians 1:6) and my three daughters will someday have these inspirational words chiseled onto my grave stone:
Here Lies Mom
A Harsh and Ponderous Gentle and Sprightly Woman
Now wouldn't that be something to phone home about? Except by then my unwieldy and plank-like iPhone will no longer be needed.
Thank you for stopping by today.
Ever so gently and with just a small degree of sprightliness,