Garden surprise
Our youngest daughter Sara has a week off from her job as a floral designer, and on Monday she decided to weed, clean and plant a good-sized flower garden we have in our front yard. We were thrilled – it was overgrown and needed a lot of attention. It took her eight hours, but she says she enjoyed it because the weather was so nice. Michael went out and joined her in the work they both think is so satisfying.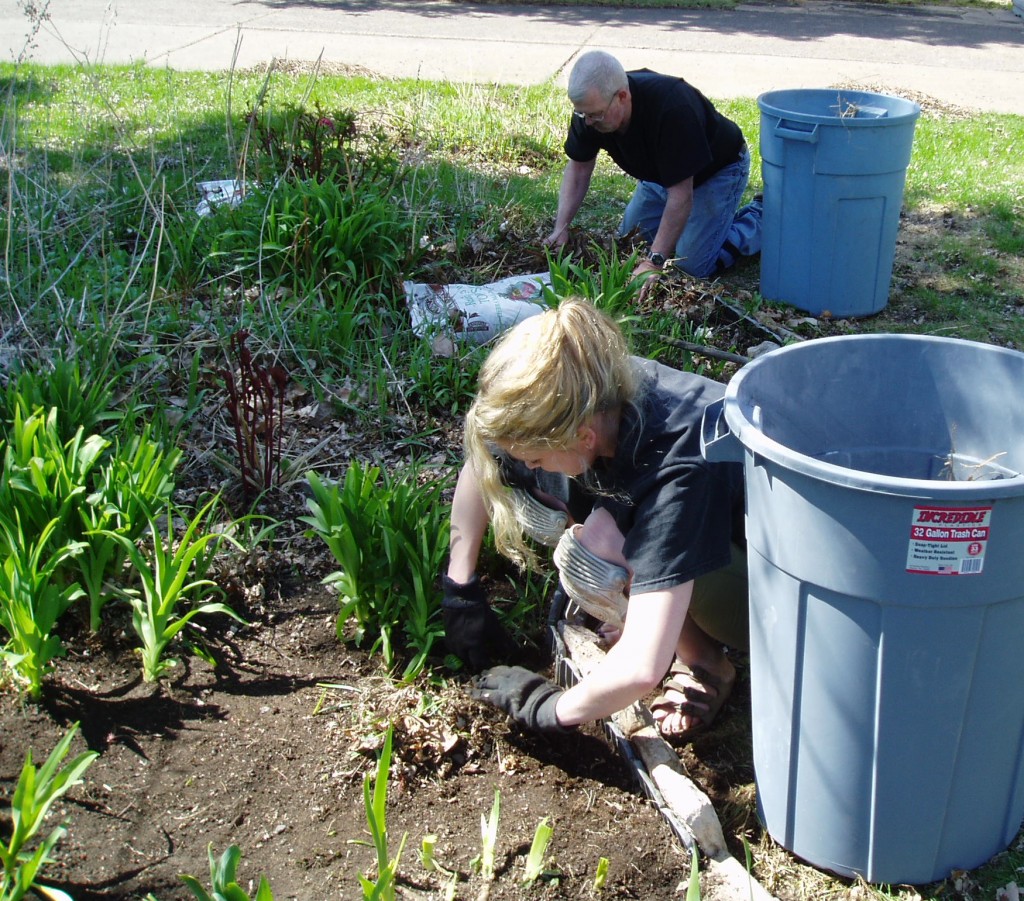 Right before noon I looked outside to check on her progress, and was just in time to see her quickly fling something aside and then rise from her knees and run off to another part of the yard, arms up and mouth open, as if frightened. Two thoughts came to me: that Sara had encountered some kind of underground hornet's nest and was running from being stung; or that as she dug, she had happened upon some giant rabid rodent with long yellow front teeth and a thick long tail. In other words, a rat.
Then a slight movement caught my eye, and I saw that whatever she had flung had landed on the grass and was slowly inching itself along. From where I was inside the house, it looked like a mouse. Oh great, I thought. Just what we need, a mouse nest in our front yard, to add to the myriad chipmunks, squirrels and deer who make our property their own.
I went outside and Sara told me she had been digging around and clearing old leaves, and had inadvertently grabbed a handful of moving, brownish fur. Her first thought was "Rat!" and she automatically cast it aside and ran. I have to say, it was pretty funny to see her do that.
We cautiously made our way to the part of the yard where this small creature was slowly moving, and groooaaaned when we saw it was a newborn baby bunny. Sara had found a rabbit hole and there were four live babies there, eyes closed and ears back. The mother wasn't in sight. What could we do? We knew we shouldn't handle them, but we couldn't very well leave the bunny out in the middle of the yard, away from its little brother and sisters, could we?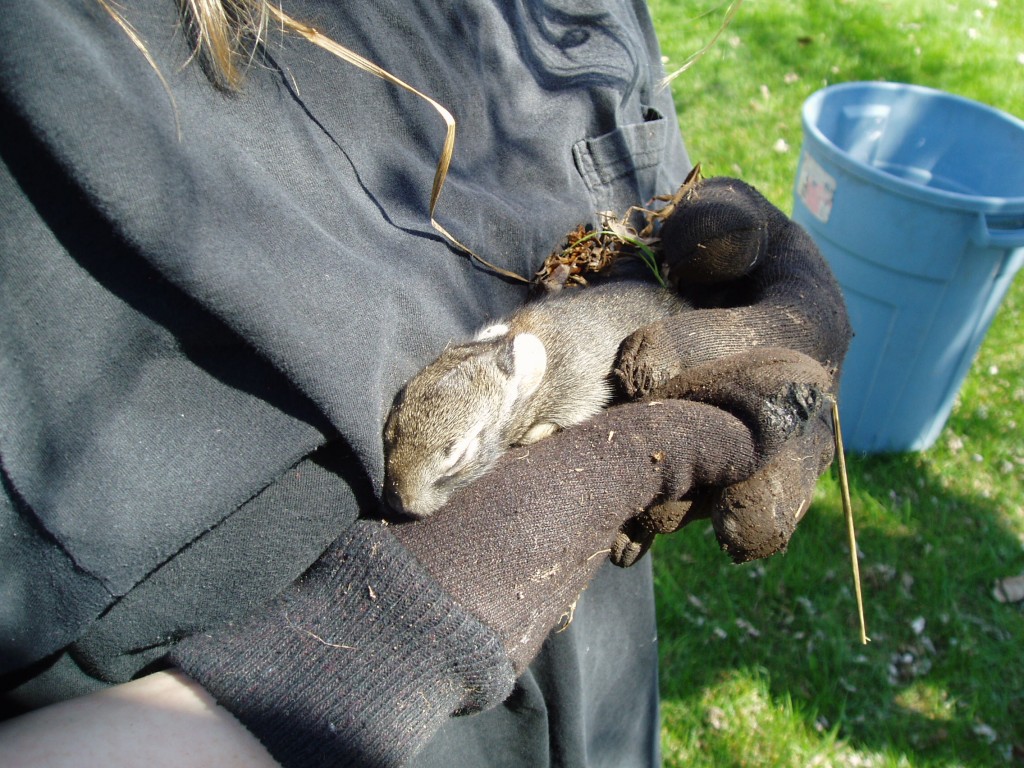 So while I ran in to get my camera, Sara gently picked the teeny creature up in her garden-gloved hands.
After I took a photo, she placed it back with its litter, gently recovering them with leaves and the plucked fur from their mother, as they had been found. They wriggled together and tried to burrow further under the earth a bit.
We were not happy that just a few minutes later a crow appeared, sometimes circling around our yard in the air, sometimes just walking nonchalantly around in the neighbor's yard across the street. Have you ever seen a crow trying to act nonchalant?  This one did. Could he have possibly seen this group of bunnies in that short a time? We didn't want to think about it.
I've looked out at that part of the garden many times since then and haven't seen a crow there. We haven't checked back to see how the bunnies are – we wanted to leave them be. We're hoping they're okay and that their mama is tending to them, even though when they grow up into adult rabbits we won't appreciate the way they eat everything in sight.
It doesn't matter what kind of creature it is, there's just something irresistible about a newborn.
(Note added on Friday, May 15: very early this morning I saw Mama Bunny cautiously approach the hole in the garden, thump on the ground with her front paws, and at least one baby came out and spent time at her belly. I assumed the bunny was nursing, because Mama was very still while he seemed to be pushing himself closer to her. She sat like this for at least ten minutes. I didn't see the babies return to their burrowed spot, but I'm sure they did, because Mama then rearranged the entrance to the hole with her front paws, tamping the earth rapidly and fluffing the leaves. She laid over on her side a bit, groomed her belly and then hopped off to a distant part of the yard. We were glad to see she's still tending to her babies. Maybe we won't be so glad when they're grown and eating all our plants, but today this brought a smile.)