For your perusal…
I'm always glad for Fridays. It means no appointments for a couple of days, it means getting into my nightgown before the sun goes down (much to my daughter Sharon's constant surprise), it means being able to sleep in on Saturday morning past 6:30, and it means I'm just a little over a day from seeing Michael again. Yay!
I thought I would share a few unrelated things that have had me thinking this week. Some of these issues inspired deep thinking, and some, not so much. But do with them what you will, and maybe you'll find something of interest to peruse.
First, I read a very sobering piece written by Kay Warren, wife of famed Saddleback Church's founder and pastor, Rick Warren. Many of you might know that the Warrens lost their son to suicide last year, and what she writes about how insensitive our Christmas cards can be to those who are grieving, is worth considering. We all know someone who will be grieving or going through very difficult times this Christmas, so I hope this is as helpful to you as it was to me. Click here to read Kay's very transparent thoughts.
Next, I usually try to buy one Christmas CD each year to add to our collection. This year I gave away three Christmas CDs that never got used, and I bought one called "Christmas At Downton Abbey." It's very traditional and European sounding, which I love, and some of the songs are performed by the characters of the show. What Christmas CDs are you listening to this year?
I've been spending some time with my grandchildren lately, as their daddy traveled south for a few days to be with his mother, who is ailing, and their mama is working hard getting Christmas photographs ready for the many families she's photographed these past weeks. Two of my grands spent the night last night and I threw their school uniforms in the washer and dryer so they'd be fresh and ready this morning. One of Mr. McBoy's pair of khaki pants had been in his backpack for quite a while, long enough for a smear of thick mud that covered the whole thigh part of his pants to dry and penetrate nicely. I treated the pants with a pretty good laundry spray, washed them in hot water in my favorite liquid laundry detergent, and when they came out the mud-stain was still there. Boo. So I decided to try once more, and was so surprised at the results I thought I'd share. I put the pants back in the washer, using the same liquid detergent, and this time I added about 1/2 cup of powdered Borax.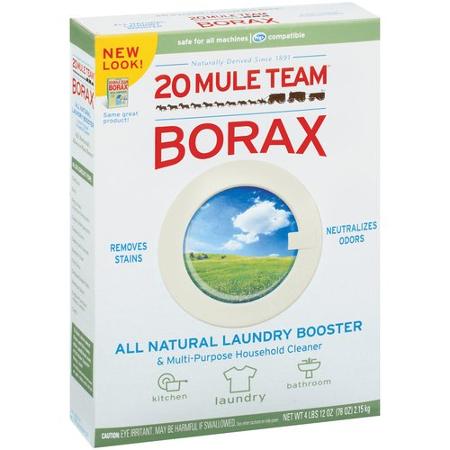 I washed them on a hot cycle, and when they came out, the mud stain was gone. I was impressed. I keep Borax in my laundry room because I've found it's the best thing for keeping front loading washing machines fresh. Do you have a front loader? If you do, you know that you're supposed to always keep the door ajar, and occasionally "treat" the inside with a special freshening dealy-bob to keep it from smelling icky. Well I've tried the dealy-bobs and I've also tried a cycle of bleach, and I finally read that 1/2 cup of Borax does the trick, and it does. It works better than anything. So there you go.
I've shared on my blog before how much I have enjoyed Radio Theatre's productions over the years. I own most of them, and Michael and I have listened to At Home in Mitford, A Christmas Carol, At the Back of the North Wind, Oliver Twist, The Chronicles of Narnia, Little Women, and Anne of Green Gables, among others. Well, there's a new production out called C. S. Lewis at War and I just finished listening to it today. I like to keep these in the car, especially for longer drives. This one is fantastic, just as all of them are. I cried and exulted as I listened to the back story of how C. S. Lewis began to work on his incomparable book Mere Christianity, which I also highly recommend. The acting and quality of these Radio Theatre productions are top-notch. If you'd like to see more about this particular one, click here and you can also hear a sample. I'm almost ready to listen to this one again!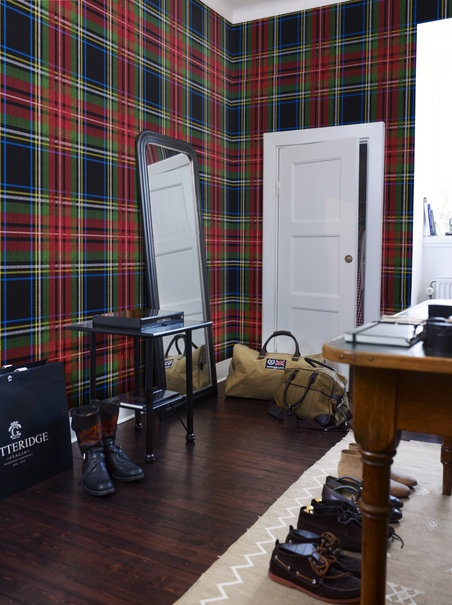 To continue on with my plaid kick, I'm actually thinking about doing something really huge, dark and dramatic with plaid wallpaper in our house somewhere. Our dining room would be a good place, since it's smallish and full of very bright natural light. Our hallway would also be a good choice.
I actually gasped when I saw this large scale tartan plaid wallpaper. Using something like this would not be out of the question. I would draw the line at using several pairs of shoes and duffel bags as decor items, however.
They say that you either love wallpaper or you hate it, and I guess you can figure out that I'm in the former camp. I have seen some of the most gorgeous wallpaper used by decorator Sarah Richardson lately, and it always strikes a chord deep within. You know someone is a bit strange, or at the very least, quirky, if the things that make them happy are Borax laundry booster and bold wallpaper.
And I got a new pair of glasses, the first pair in five years. I wanted something a little larger and clunkier than what I had, and here they are.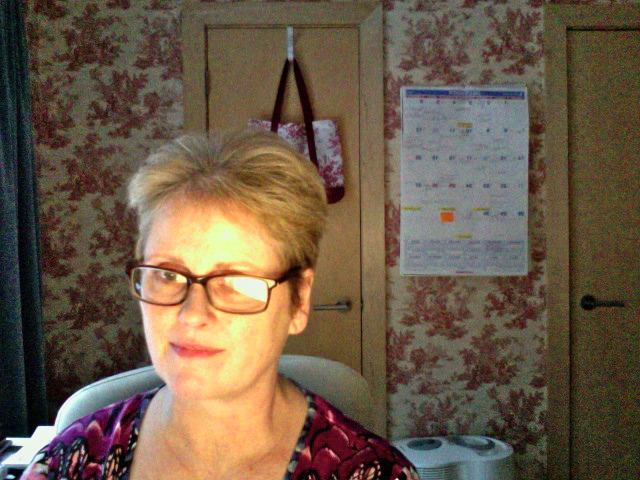 There's only one thing. They're heavier than my other frames, and after a day of wearing them my nose feels tired and achy. That's JUST what I need in addition to all my other tired and achy spots. (Have I mentioned my left hip? Remember I had my right knee replaced eighteen months ago? And yes, now my left hip is waking me up three or four times at night and hissing, "Stop laying this way! Turn over! No–not like that! Like this!" and I'm getting ready to smack her.)
So after wearing my new glasses for several days, I put them on my desk and put on my old ones and the bridge of my nose said, "Aaahhhh. Thank you!"
I haven't figured out what I'm going to do about this yet.
Earlier today I met my dear friend Su for lunch at a local burrito place, and it was wonderful…the food and the company. We agreed to meet again soon at a new little tea house in our city called The Snooty Fox. I'm really hoping I love The Snooty Fox because I love the name so much.
It's getting dark now, so I will go and warm up some dinner. I made the Pioneer Woman's hamburger soup for dinner last night and varied it a little bit, adding some red wine to the broth. I always make a lot of soup so we can have it two nights in a row. A day off from cooking! Yes!
So I have some questions for you now. What is your favorite soup? Do you have any wallpaper in your house by choice? Have you ever enjoyed a Radio Theatre production? Does your front loader ever get smelly, and if so, what do you use to freshen it up again? (If you don't own a front loader and are thinking we must be quite the filthy household to have such washer issues, just google "front loader smell" and see the hundreds of articles that pop up about it.)
And….what are you doing this weekend?