Five Days Fraught With Flowers
Arranging a bowl of flowers in the morning can give a sense of quiet in a crowded day — like writing a poem or saying a prayer.
Anne Morrow Lindbergh
Arranging thousands of flowers for a huge wedding for five days straight and into the wee hours of the mornings can give an utter sense of lunacy to a quiet life — like taut nerves close to snapping and the eyes rolling back in the head.

Julie B.
*          *          *          *          *
Sara is a floral designer in a local downtown flower shop, and she loves her job. Once or twice she has been asked by friends if she could do their wedding flowers on her own, and she has agreed. She has done these weddings as favors, and because she isn't set up like a flower shop (and doesn't want to be), the logistics became a little challenging. The outcomes have always been beautiful, though, with happy brides and families.
Last week was the third wedding Sara has done by herself, and it was an enterprise of mammoth proportions because of the size of the flower order. Trish, the lovely bride, ordered twenty-one large table arrangements, yards of lush bay leaf garlands hung everywhere, a huge memorial arrangement for one of the deceased parents, along with the multiple corsages, bouquets and boutonnieres.
A truck from Minneapolis arrived at our house early in the morning, twice last week. Our garage became Sara's floral workshop. Our kitchen became the storage area for completed arrangements. The refrigerator in our guest room became the place where corsages and smaller pieces where gingerly stored.
You can click on the photos to enlarge them if you like. Sara was ready for the first shipment with bins full of water in the front yard — thankfully it was a beautiful day. It took her most of the day to clean and prepare the flowers. Some flowers had to be stripped of leaves, some had to be placed in very cold water. Some had to have bleach added to the water, some had to have damp paper towels draped delicately over their blooms. Some flowers had to have their stems cut and boiling water poured at the cuts, others had to be softly sung to and caressed every three to four hours. It was a daunting job.
Michael helped her unpack boxes of flowers from this first delivery. Right about this point I started worrying about how these flowers were going to stay fresh from Tuesday morning until the Saturday evening wedding, with hot weather forecasted, and no huge florist's cooler on the premises. Moms are good for that kind of thing and I was more than happy to do it for Sara. I didn't want her worrying one little bit.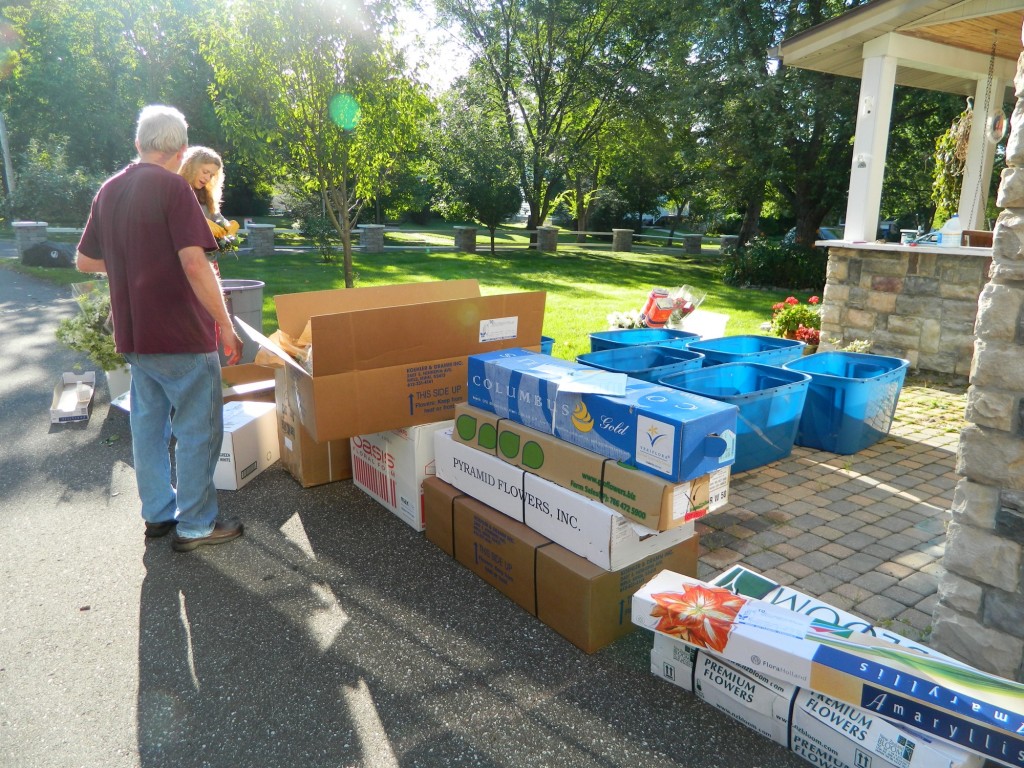 Flowers, flowers, everywhere.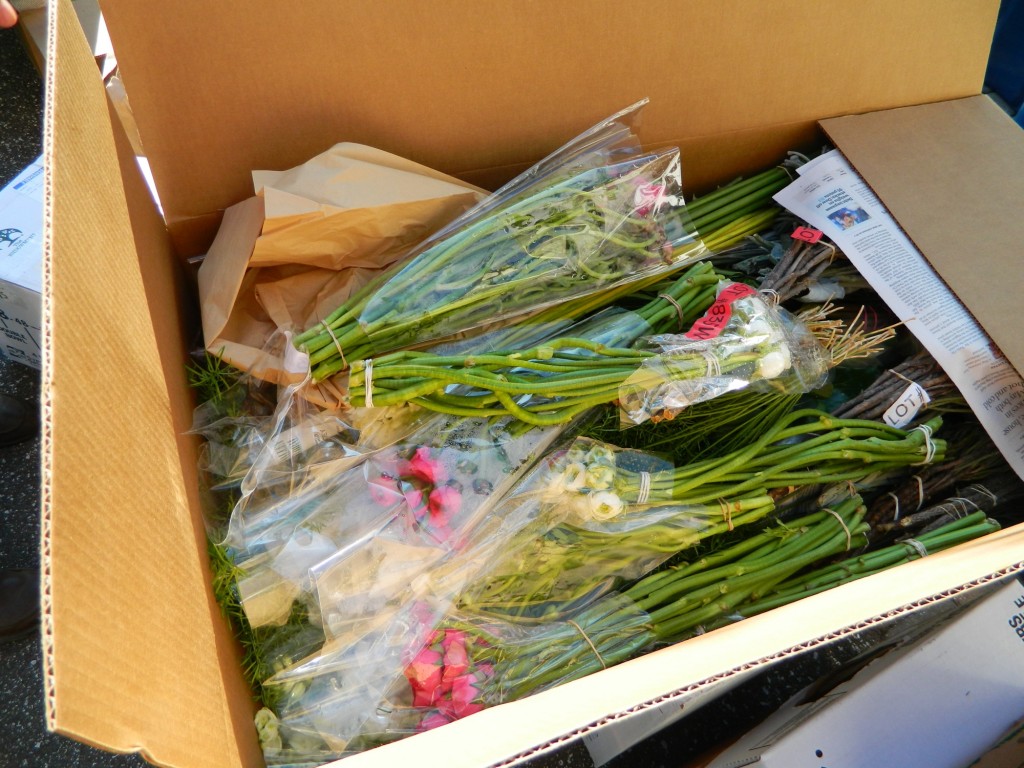 Amaryllis hanging out in the corner of their blue bin.
Doesn't she look calm and cheerful, considering that the next almost five days are going to test her endurance like nothing she's ever experienced? Keep in mind that aside from doing this wedding, Sara works at her day job, and is also going to college, taking some kind of class about atoms and cytoplasm and something weird called the periodic table of elements. 🙂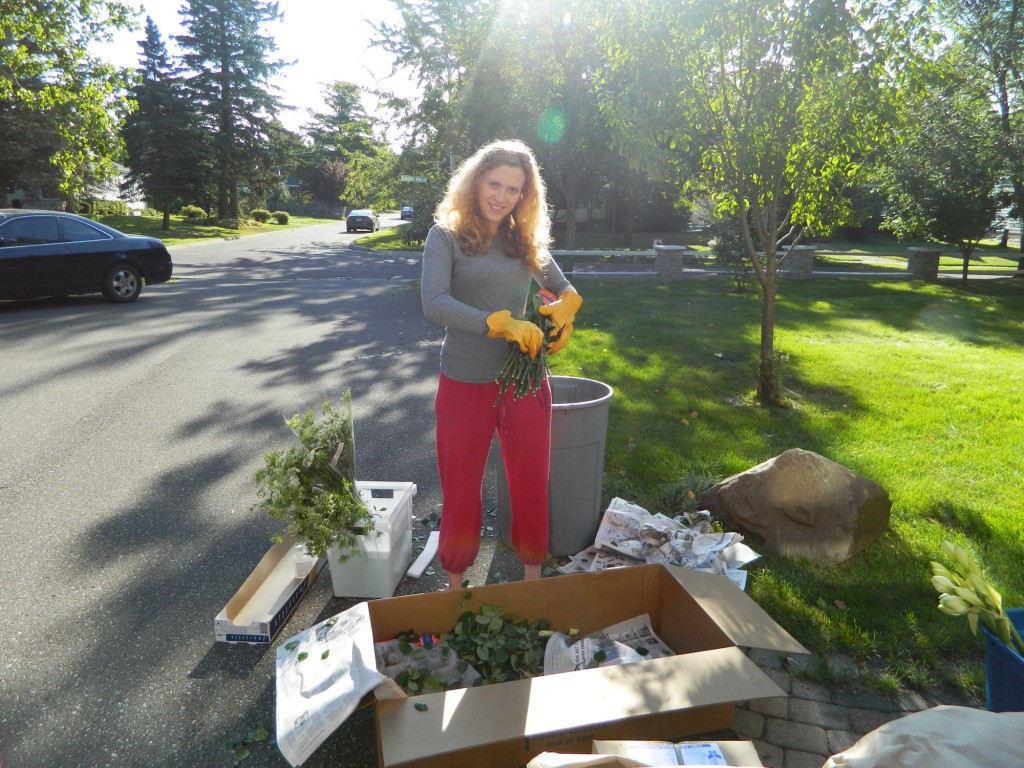 Roses!
Soon some of the bins had to be moved inside to the laundry room because the temperature outside started to climb.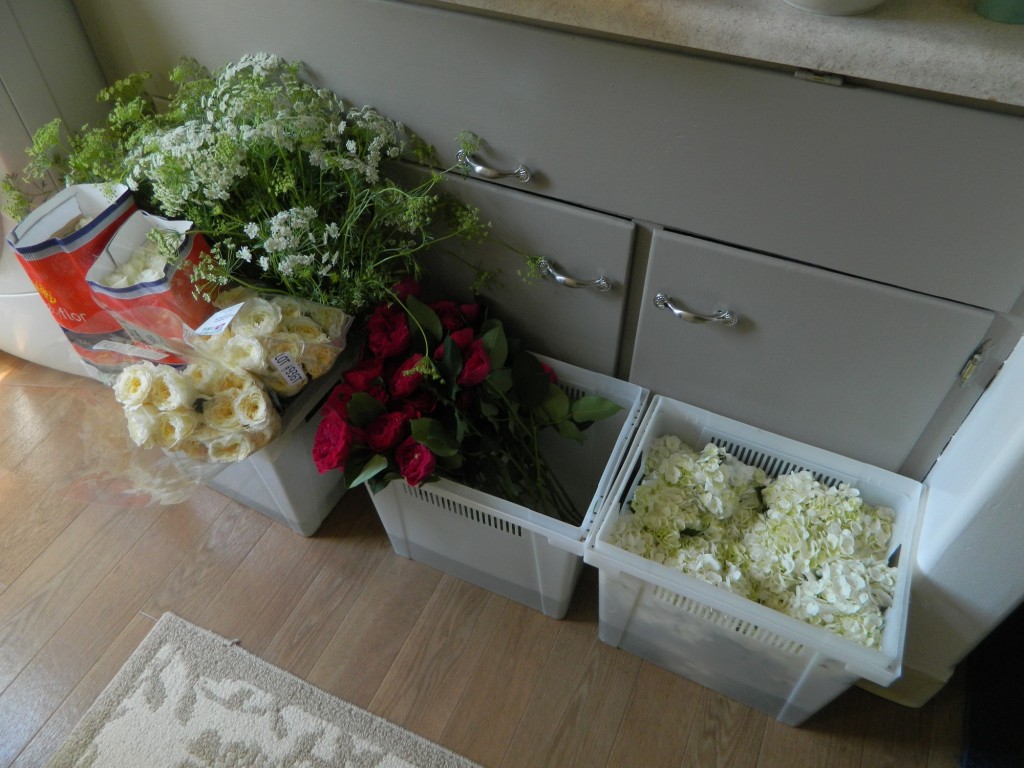 I think this picture was taken on Thursday — of several table arrangements sitting on one of our kitchen counters, along with other flowers being stored in bowls and pitchers, waiting their turns for glory and infamy. We pulled the shades down and cranked up the air conditioning to keep things as cool as possible.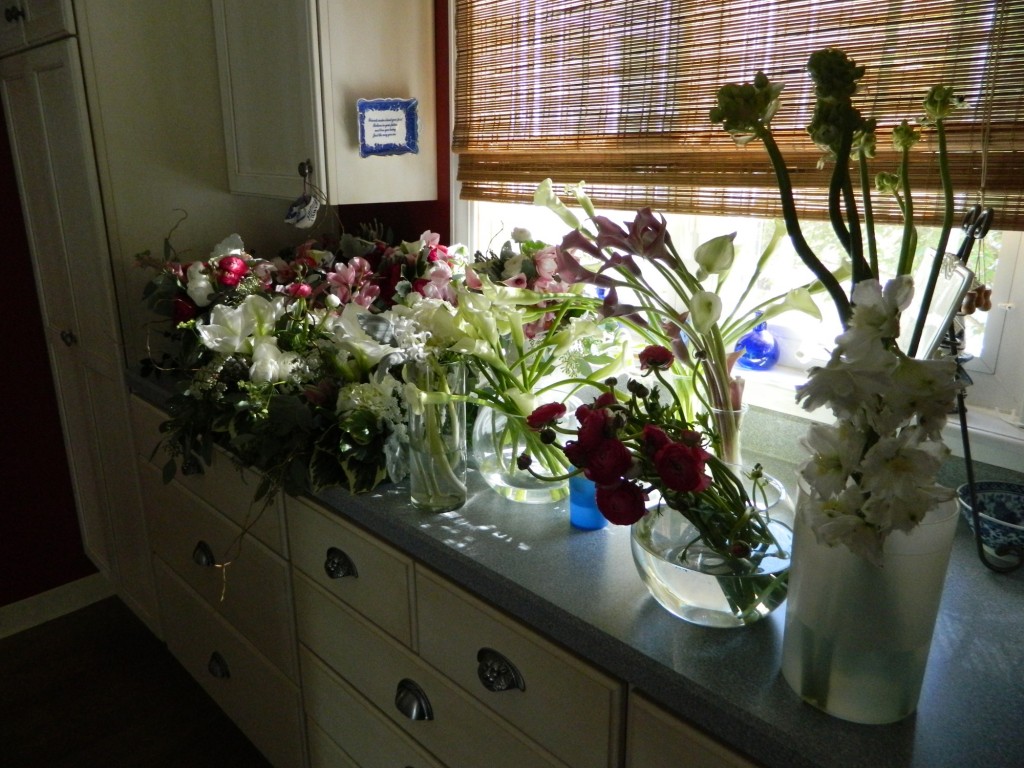 What, you don't keep several rectangular table arrangements on your kitchen counters?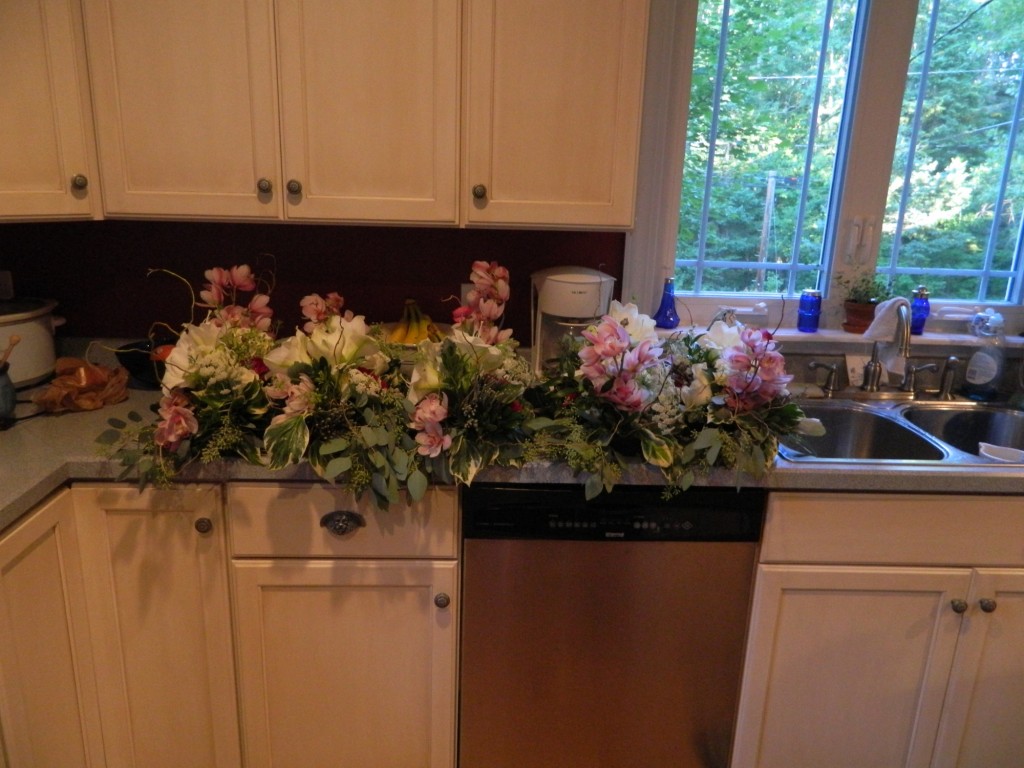 They're all close together so it's hard to see, but I believe there are six completed floral arrangements sitting here.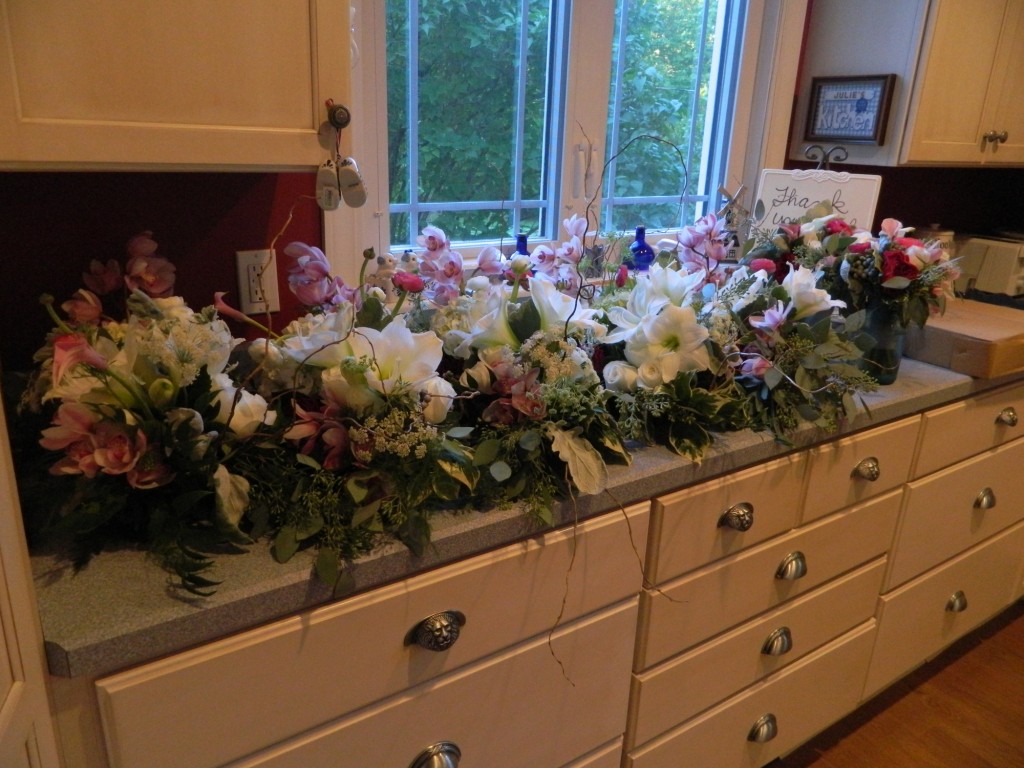 On Friday night God sent an angel in human form named Corie to help Sara with whatever still needed doing. What a blessing her unannounced appearance was!
I believe the photo below was taken early Saturday morning. Sara had stayed up until 2:30 a.m. to get the rest of the table arrangements done. I liked storing them on our stove, because that meant I didn't have to cook! Yeah! Out to dinner 'cause there are flowers on the stove! Next time you don't feel like cooking you might try this tactic too.
Below, Sara is working on the bride's gorgeous bouquet — a bouquet she carried in the crook of her arm, to the side, rather than in her hand.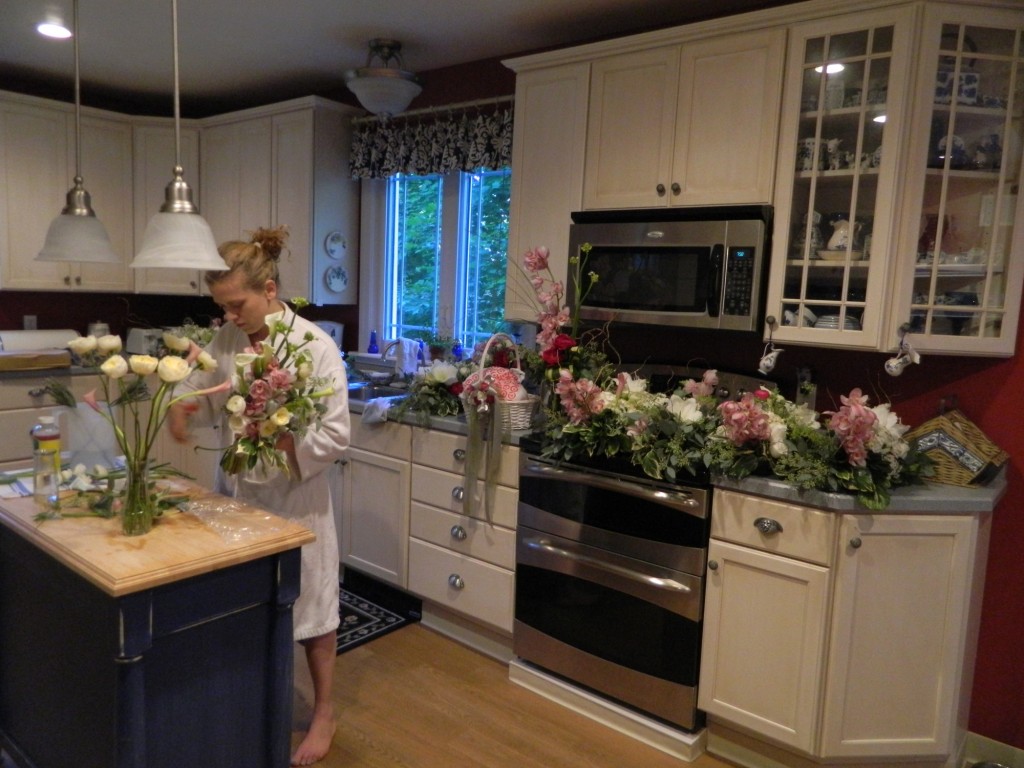 More table arrangements…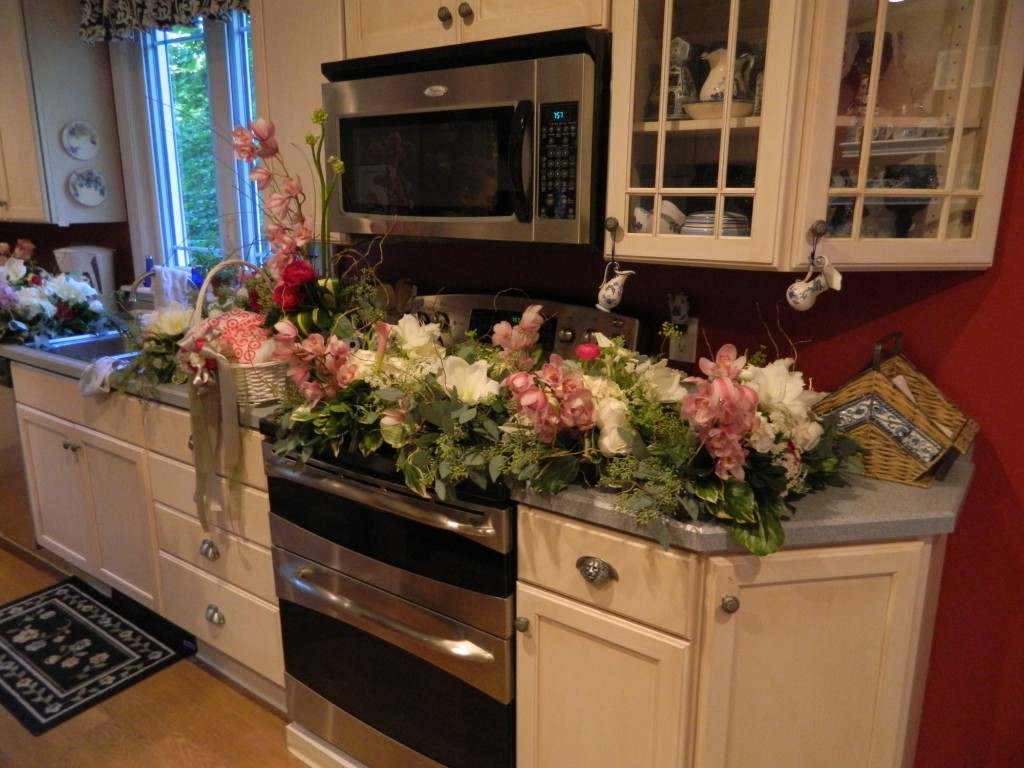 I knew I would find a good use for this treadmill I bought! Look at how perfectly those table arrangements fit! I wonder if my two feet would fit on this. I should give it a try sometime.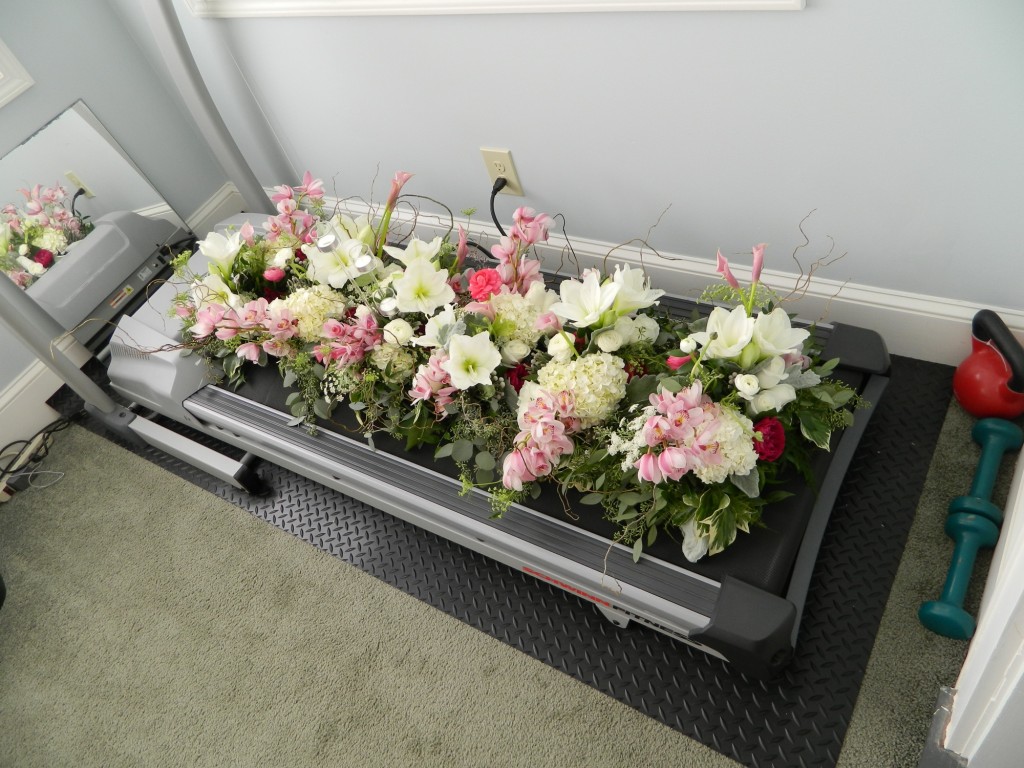 I was too tired to go to the wedding after watching Sara exhaust herself for five days doing flowers, so I don't have any wedding photos. I was told it was exquisitely beautiful though, and that the flowers helped make it so. If anyone sends me a photo or two from the wedding, I'll post it here later.
Sara was so thankful that the bride and groom and their families were happy with her creative work, and after we transported all the arrangements and bouquets to the church on Saturday morning (three vehicles full), her relief and happiness were a joy to see.
Now my kitchen counters, stove, laundry room and fridge are flower-free, so I guess that means I have to go cook something. Does anyone have any good recipes?
Sigh,