Bearskin Lodge After-Wedding Trip
I've been meaning to share some pictures from our after-wedding trip ever since October. But a few things have happened. And then a few more. And then the Huge Thing happened, and here we are, in our houses, praying for the sick and the bereaved, wondering if life will ever get back to the way it was. I know the answer to that, but for now, let's just look at some beauty.
This was the tiny cabin Lloyd and I stayed in at Bearskin Lodge on the Gunflint Trail. We were there four nights and five days, and didn't want to leave. It was cold at night, sunny during the day, and there were gorgeous colorful leaves everywhere, and we had a lake at our back door and the woods all around. No phone service, no television. It was heaven.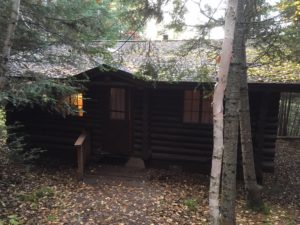 The Gunflint Trail starts in Grand Marais, MN, which is about 100 miles north of where I live. It winds north and west through Minnesota's forests, and if you look at the map you can see how close to Canada it comes. The Gunflint is the yellow road below. And you can also get an idea why Minnesota is called the land of 10,000 lakes. Although that is a lie. We have so many more than 10,000.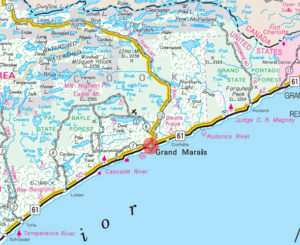 This is the sign that greeted us on the Gunflint Trail for our lodge. We then drove down a dirt road a couple of miles before getting to the main office, where we picked up our key and headed for Cabin 2.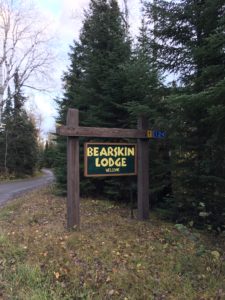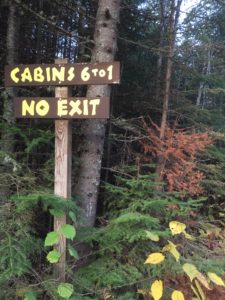 We just had to stop and have some lunch before we got to our Gunflint turnoff, though. This was the salted caramel gingerbread cake a la mode we split. It had some cayenne pepper in it too, so yummy.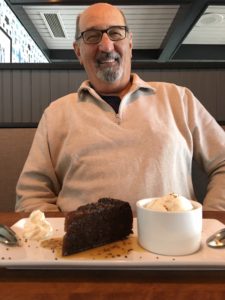 The inside of our cabin was rustic but so warm and comfy. Lloyd's daughter Angela had called ahead and a warm Forest Berry Pie was waiting for us when we unlocked our cabin.
The kitchen was just a little corner at the front of the cabin, and I warmed a pot of soup for dinner. I made the soup at home and we took it with us.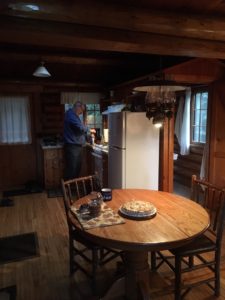 We hiked, we drove around in our pajamas looking for moose (they abound on the Gunflint Trail!), we read out loud to each other. We had to hike on the Honeymoon Bluff Hiking trail since we had just gotten married and we were on our After-Wedding Trip.
Lloyd's truck, Lloyd tying his hiking boots.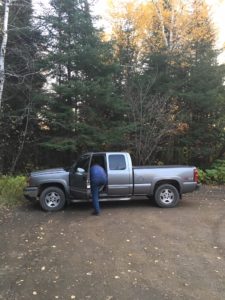 Such a gorgeous autumn day for a senior citizen selfie.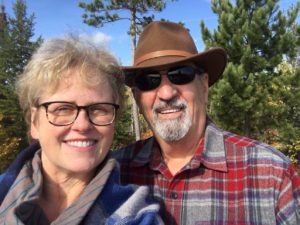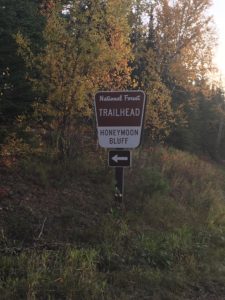 The morning we drove down some abandoned logging roads looking for moose, we happened upon this lake at sunrise. If you enlarge it you might be able to see the ducks.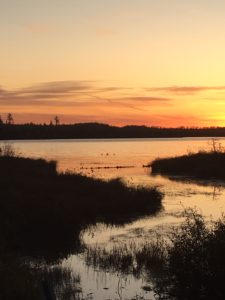 We hiked to an overlook near Hungry Jack Lake, and this weathered fence post caught my eye. Look at how the rings formed in the winters (dark) are harder and stood up to the winds better than the lighter colored, softer wood made in the summers. There is a life lesson there.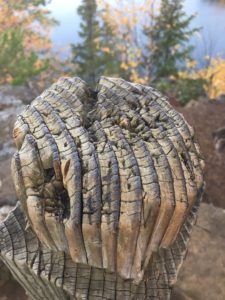 The lodge at Bearskin has a cow moose and her calf made out of wound up twigs and branches, and they're lit up with hundreds of tiny lights at night.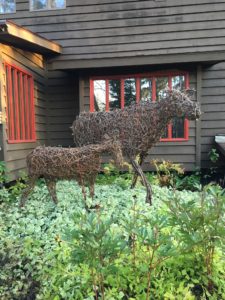 We took a kite in case we wanted to fly it. We took it out on the boat with us in Bearskin Lake and flew it until the string snapped. We were able to turn back and rescue the kite from the lake. What a lovely thing to sit with my feet up and read, while the fall sun comes in the back window of our little cabin.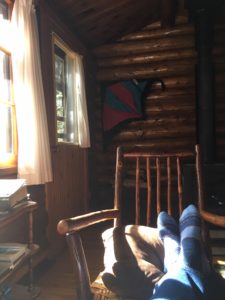 This is the soup I brought — a copy of Olive Garden's Zuppa Toscana — so mouthwatering. I always add extra of everything, especially kale.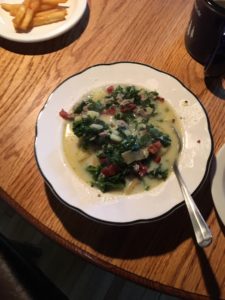 I don't know what kind of mushrooms these are, but they were super hard. It took a lot to pull one off.
If you have trypophobia, do not enlarge this picture below. And please send lotion.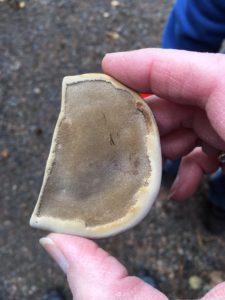 We boated for hours, but it was windy enough to make us want to come in and build a fire to get warm. Lloyd in a posture and expression I see a lot…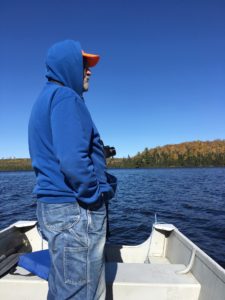 Trees fascinate me and I took lots of pictures of the waviness of the layers of bark on the pines.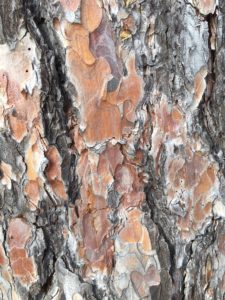 From the top of Honeymoon Bluff Trail:
I'm trying to be intentional about how I spend my time these days. Lloyd and I just returned from a two week trip to California and were right in the thick of things. He is home in his log cabin fifty miles south of me, making sure he feels well. I'm here in my home, within view of Lake Superior, "sheltering in place" and doing foster paperwork. I want to knit, write, read, bake, walk, do old-person yoga, draw. So far I've only done one of those things. With overripe bananas.
How are you spending your time at home lately? Are you healthy? I pray you are.
May God keep you and help you,