Autumnal musings
Autumn is making itself known now in our little part of the world. Even though the first day of fall isn't officially until the end of September, when you live this far north, the earth apparently doesn't consult the huge wall calendar I bought at Office Max to time its autumnal behaviors. The earth just does what it wants. And at the almost-47th latitude, the earth mostly wants to chill out.
The sun's arc doesn't reach as high as it travels across the sky now, and the light coming in the windows each day is different, more golden, than it was last week. I could stand in my kitchen, not knowing the date, and tell by the lower sunlight that summer is dying.
Here, summer usually awakens the birds around 4:30 a.m., and the cardinals, robins and chickadees are in their full Mormon Tabernacle Choir mode by 5:15 a.m., which I have always thought is one of the loveliest things in life. Now, things are pretty quiet in the mornings. Some of the birds may have already migrated south, and I'm not sure what the ones who stay for the Minnesota winter are doing. Maybe putting caulk on their windows and otherwise battening down the hatches to prepare for possibly nine months of cold.
When I got up this morning and came downstairs, I didn't open windows and breathe in the comfortable fresh air like I did last week. I considered turning on the furnace, and then thought better of it. It is August, I reminded myself. But the house is chilly.
Michael and I took a walk yesterday and there are a few leaves beginning to turn color on the trees already. Here's a photo taken by my good friend Bob King that was in our local paper recently.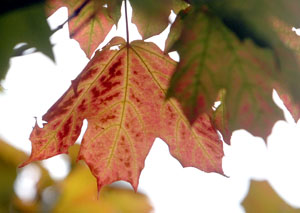 Many people in northern Minnesota live a pretty hectic summer. Our summers are so short, maybe people feel they must fit all the warm-weather activities they can into the three warm months out of the year. Picnics, camping, hiking, barbecues, biking, house projects, cabin trips, gardening, fishing…are all squeezed into three months of living because Minnesotans know that by late October it will be dark and cold, and for most people, life will slow down.
There are the hardy ones who go camping and ice fishing in the winter of course. And many have decided to make the best of a long cold winter by learning to ski, snow-shoe and roar through the forests on snowmobiles.
But for me, the changing of a leaf's color on the maple in our front yard doesn't mean snowmobiles or sitting on a frozen lake dangling a line into a small hole in the ice. For me, the arrival of autumn means removing our lightweight toile quilt from the bed and pulling out the heavy down-filled toile comforter. It means wearing sweaters instead of t-shirts, and the comfort of SmartWool socks under my Birkenstocks (Carolyn, I'm going to buy you some Birkies and thick wool socks this Christmas to complete your Drama Mom look), and it means pulling out thick and pretty scarves to keep my neck warm in the chill air.
And, the shortening of days stimulates a mostly dormant and atrophied portion of my brain called the cookothalmus that suddenly makes me want to bake loaves of crusty bread, simmer hearty soups on the stove, and stir up pans of spicy apple crisp. Summer's waning makes me want to take long meandering walks. It makes me want to hunker down with books and sit with friends in front of a fire.
And for some reason I don't understand, the change in season makes me want to pray. And write in my journal. And sit in my plaid chair, looking over one or two verses and meditating on them until the riches rise to the surface and I sit astonished at the depth and layers of God's Word. I surely need that.
The change from summer to fall and fall to winter has always stirred up something in me that I can't put good words to. I only know that it it makes me aware of fleeting life and inevitable death in a more acute way, and it brings on a wistful, yearning feeling that reminds me how quickly my days will pass from this earth, how in no time at all my grandbabies will be adults with children and grandchildren of their own.
Why does this thought make the tears run down my face? I don't know. It's a wonderful, terrible sort of ache that comes with the passage of time.