Are You talking to me?
Every summer for the past nine years I've had the privilege of hosting a beloved group of friends for a Bible study in my home. All of us comment each year that there's no better way to mark our summers than to study together, to pray and encourage one another, and to hopefully grow in grace and truth. We have done several of Beth Moore's eleven week studies, a seven week study called Conversation Peace by Mary Kassian, and this year we're doing the updated Breaking Free by Beth.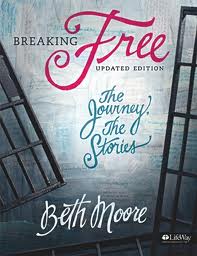 We meet on Tuesday mornings, June through August, and share our hearts, go through the week's study questions and discuss what we've learned, watch a teaching DVD by Beth, pass the Kleenex, and close by praying together.
Breaking Free is based on Isaiah chapter 61:1-4, and has been written to help people break free from any bondage that keeps them from being who they were meant to be in Christ. Some people need to break free from some pretty huge chains and some people have smaller chains that don't seem to be of as much consequence, but whether it's drug addiction or despair, food issues or fear, abuse or apathy, narcissism or nail-biting, most of us have something we struggle with. Most of us have some issue in our lives we've just learned to live with. Last week's study called it "making peace with our captor." I know that story.
Here is the passage from Isaiah 61 on which our study is based:
The Spirit of the Sovereign LORD is on me,
because the LORD has anointed me
to preach good news to the poor.
He has sent me to bind up the brokenhearted,
to proclaim freedom for the captives
and release from darkness for the prisoners,
to proclaim the year of the LORD's favor
and the day of vengeance of our God,
to comfort all who mourn,
and provide for those who grieve in Zion—
to bestow on them a crown of beauty
instead of ashes,
the oil of gladness
instead of mourning,
and a garment of praise
instead of a spirit of despair.
They will be called oaks of righteousness,
a planting of the LORD
for the display of his splendor.
They will rebuild the ancient ruins
and restore the places long devastated;
they will renew the ruined cities
that have been devastated for generations.
Six hundred years after God inspired Isaiah to write his prophecy, Jesus came to earth to fulfill it.
This is from Luke, chapter four:
Jesus returned to Galilee in the power of the Spirit, and news about him spread through the whole countryside. He taught in their synagogues, and everyone praised him. He went to Nazareth, where he had been brought up, and on the Sabbath day he went into the synagogue, as was his custom. And he stood up to read. The scroll of the prophet Isaiah was handed to him. Unrolling it, he found the place where it is written:
"The Spirit of the Lord is on me,
because he has anointed me
to preach good news to the poor.
He has sent me to proclaim freedom for the prisoners
and recovery of sight for the blind,
to release the oppressed,
to proclaim the year of the Lord's favor."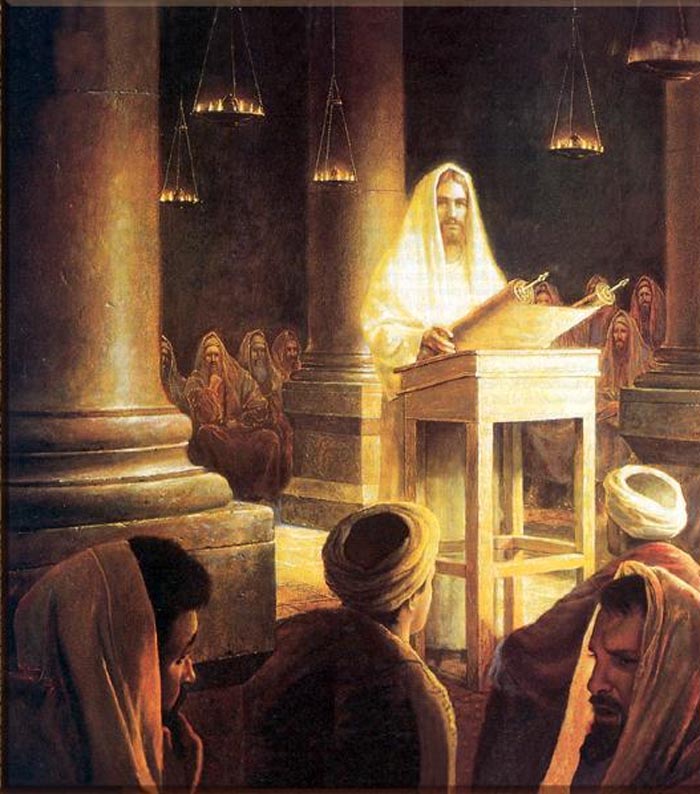 (painting by Greg Olson)
"Then he rolled up the scroll, gave it back to the attendant and sat down. The eyes of everyone in the synagogue were fastened on him, and he began by saying to them, 'Today this scripture is fulfilled in your hearing.'"
Was Jesus speaking only to the Jews in that synagogue? Or was He saying that He had come to bind up the broken hearts of others too?
Did Jesus mean only that He would give sight to physically blind eyes then, or did He intend to open eyes in 2010?
Did Jesus come to set captive people free only in His own country during his earthly lifetime, or does He intend to do it now, in our countries and in your home and mine?
When He unrolled that scroll and said that He would release the oppressed from their chains, did He mean only the demonized man of the tombs and Mary Magdalene with seven demons, or did He look down the centuries and see you and me sitting at our computers reading these words, and have us in His mind?
Can the ancient ruins of our families really be rebuilt? Can He really restore the places that have been long devastated? Even the ones that have been devastated for generations?
Did He mean you and me when He said He would drape us in a garment of praise instead of a spirit of despair?
Will He truly pour the oil of gladness on us instead of mourning?
When He stood up in His hometown synagogue after being in the wilderness for forty days, when He asked for the ancient scripture scroll of Isaiah the prophet, when He unrolled it and read aloud His job description, was He talking to you? Was He talking to me?
Jesus, are You talking to me?