A Fitting Casket Spray
When I started this little blog several years ago I never once thought "A Fitting Casket Spray" would ever be the title of a blog post. But death is part of life, and Michael's death and absence and legacy will be part of my days forever, so here I am sharing another part of his funeral.
I'm so grateful that all our children took part in their own wonderful ways, in contributing to those last days of Michael's life, and to his funeral service. I still think about how beautiful it was.
Sara made her dad's casket spray. She has been a floral designer for many years now, and of course it was appropriate that she would be the one to create something to put on Michael's casket that would honor and represent him. We have a workshop area in our basement Sara uses to make all her floral arrangements, and I could hear her down there off and on for two days, making Michael's spray.
Michael was a man who loved flowers. He enjoyed getting flowers more than any woman I've ever known. He also loved evergreens. He was a rock collector, especially of agates which can be found all over Minnesota. And he had been hunting deer almost every November since he was twelve years old. (Although during the last three-four years of his life he started feeding deer instead of shooting them for food. He loved watching the deer that came to our yard every day. I have never pretended to understand the whole deer hunting culture in Minnesota, but oh well….) So Sara filled Michael's casket spray with flowers, rich foresty greens, ferns, deer antlers and rocks Michael had collected. She also included Scottish thistle as a nod to his ancestry.
The spray was breathtaking, and this slightly grainy photo taken with my phone doesn't come close to doing it justice:
You can click to enlarge it if you like.
Another one:
After the funeral and meal were over, we drove to the cemetery and our pastor led our family in a committal ceremony at Michael's grave site. We prayed together, cried, sang the song "Because He Lives," and said goodbye. Before we all drove home on that day, we each stepped forward to take a flower from this arrangement Sara created.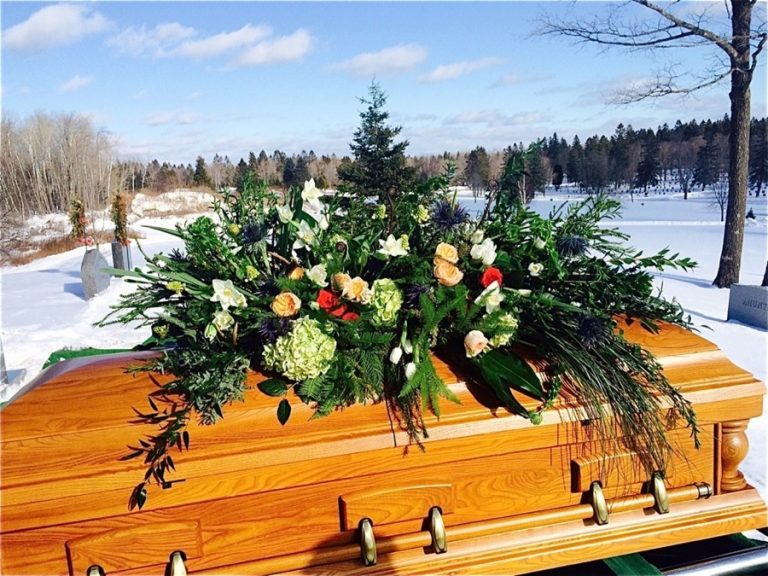 I have dried Scottish thistle blooms on my kitchen windowsill that remind me how much beauty can be found in the death of someone who loves the Lord.