A Few Things
Hello everyone! How is your June going so far? We have a gorgeous spring happening here in northern Minnesota. The lilacs are in full bloom, my three crab-apple trees in the side yard of my house are singing out their pink joy, birds are at the feeders, there are "sheep" on Lake Superior as the breezes ripple its surface, and the temperatures have not yet reached Icky Hot Summer Weather status yet. I still have to turn on the furnace at night and cover up with my heavy blankets when I go to bed, which is a blessing.
Last night our family gathered at Carolyn and Jeremy's house, to be together to celebrate the life of their little girl Hannah Joy, who was born six years ago on June 7th, and who went to heaven on that same day. She was born early at 22 weeks and weighed about a pound, but her brief life means so much to all of us. I love getting together for Hannah Day. As the years go by and other precious grandchildren have been born, I still get such joy (appropriate for her name) thinking of her. What is she like now in heaven? Does the Lord let her be aware of us? (I think so.) I don't know why, but I've always thought of her as Hannah the Strong. That title might seem unlikely for a tiny baby girl whose heart beat for such a short time, but I think we'll find out some day why she has that name.
Here is a photo of Hannah, being held by her daddy Jeremy. How thankful we are that the Lord entrusted her to us.
We met in the evening on the side terrace of Jeremy and Carolyn's house, and everyone brought something. Carolyn made two delicious pasta salads and cupcakes, Chris and Sharon brought fried chicken, Jeremy's parents Diane and Steve brought a marinated Greek salad and her delicious homemade rolls. I brought a vegetable and dip platter and some California rolls. Almost all the grands were there. We oohed and aahed over the new climbing roses they've planted near the front of their house, and the purple hydrangea. I saw the bee hive on the edge of the woods for the first time, and the small vineyard Jeremy has planted. Being at their house is like visiting a lovely park surrounded on all sides by woods. Both Sharon's and Carolyn's homes have such peaceful settings, and I'm so happy for them both. Having a home is nothing to take for granted. I walk through my own house and frequently whisper, "Thank you, Lord, for giving me this home." I want to always remember that this is a gift and a privilege from Him (and from Michael) and I will never take it for granted (or "for granite" as a dear one used to say when she was little.)
I'm still dreaming of Ireland and hoping 2024 will be the year I visit. Right now I have my trip narrowed down to two possibilities. I will either take a cruise around Ireland and Great Britain, going on land for different tours/excursions and then returning to the ship each evening. Or I will take an Aer Lingus flight to Ireland, and take this tour.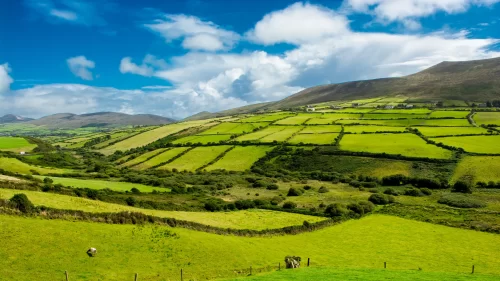 Both options have advantages I love. I really like the thought of a cruise ship (I've been on four cruises and so enjoyed each one), having a balcony to relax on, one room to return to, unpacking only once. I also love what I read about the Driftwood Tour I linked above. The small group size, the comfortable small coach, going so many places in Ireland and having it all pre-planned.
I would appreciate reading any of your thoughts, especially those of you who have been to Ireland.
I've also been reading about the business class seats (not first class, but so much nicer than coach for long flights) Aer Lingus offers, and would consider traveling that way. Here's a photo — the seats recline.
Have any of you watched Shiny Happy People on Prime Video? Oh my. I almost have no words. When Michael and I were raising the girls and I was home-schooling, we had some good friends who were part of the Bill Gothard movement and used the ATIA curriculum. I never did, but I was somewhat familiar with it. It's hard to imagine all that has taken place because of it.
I may take my camp chair up to the cemetery this afternoon and read by Michael's grave. I love being there and since I have a fairly free day, that sounds like the perfect way to end it.
I could babble on about what I'm reading, a crochet project I'm about to start, what our summer Bible study is about, and what's going on with daughters and grandchildren, but I'll share about that next time.
God bless your week,