Christmas thoughts and greetings
Merry Christmas!  Happy Holidays!  Seasons Greetings!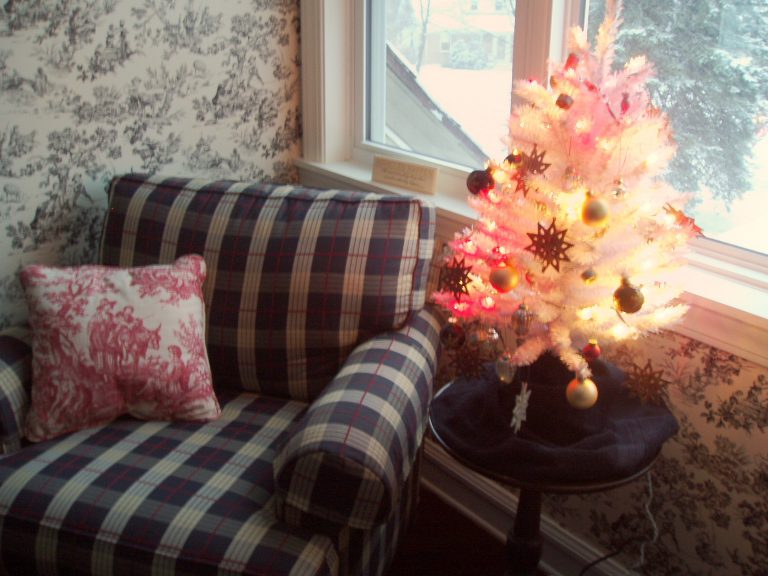 I pray your Christmas is blessed in ways you will always remember.
This is the tiny little white tree we have in our master bedroom. I hope to someday be a better photographer, but at least you can get an idea of how it looks. The ornaments are black and gold, silver and bronze. The lights are red and white/clear.  Two of our grandchildren, Clara and Elijah, decorated this tree for us. Sometimes at night we leave the tree lights on and it serves as a soothing and beautiful nightlight. Since this photo was taken, the snow has piled up outside and is quite high on the window ledge, and it adds to the festive look.
And this is the woodsy wreath we have hanging on our front porch. Our youngest daughter Sara made it for us. It's a Christmas wreath, of course, but because it also looks very wintry in general, we can leave it up for a while after the holidays are over. The ribbon matches the shutters on our house. 🙂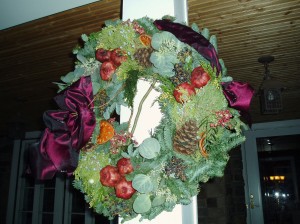 I love the blue spruce, balsam, dried pomegranates, seeded eucalyptus, blackberry privet, pink pepper-berries, fragrant cedar and curly willow she used. You can see more detail if you click on the photo to enlarge it.
When I watched my grandchildren decorate the little white tree in our bedroom, I thought about the long-celebrated tradition of placing lights on a tree. December is a very dark month in our part of the country, and there's something about the beauty of lights twinkling in the darkness. Why are we so struck with the beauty of small lights in the dark? Why do we drive around our neighborhoods, oohing and aahing at strings of small bulbs that people have hung to shine in the dark? I think it might have to do with a deep truth already written on our hearts, but I just can't seem to find the words to say it right. As Clara and Elijah delighted in the pretty tree they were decorating, I thought of the beautiful promises Isaiah wrote about, seven hundred years before the birth of Christ.
The people walking in darkness have seen a great light; on those living in the land of the shadow of death a light has dawned.  (Isaiah 9:2)
I will never forget the darkness I, myself, have walked in. And I will never stop marveling at the way Jesus continues to bring His light into those dark areas and opens my eyes to His love, mercy and power.
This is the time of year when two worlds call out for our attention. One side shouts and beckons us into the craziness of buying, debt, overindulgence and endless activity. This world makes all kinds of foolish promises to us that many of us believe, and on December 26th we find out that we were lied to yet again.  
The other world is a quiet, peaceable kingdom that doesn't demand our allegiance but invites us beyond its gates and promises us things we can't find anywhere else. Joy, peace, love, true riches, life, light and hope. 
This is my prayer for all of us this Christmas of 2008:
May the God of all hope fill you with joy and peace as you trust in Him, so that you may overflow with hope by the power of the Holy Spirit. (Romans 15:13)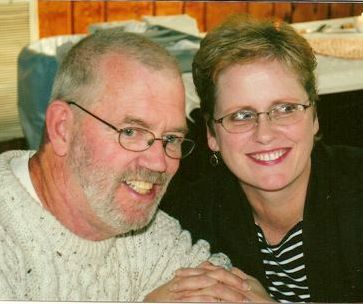 How grateful I am for the hope God has brought into my life! I can remember many times when I had completely lost hope and felt certain that I would never know joy again. But the Bible says that He is the God of all hope, and He has been faithful to fill me with His hope time and again as I've learned to wait on Him.
Michael and I both want to wish you a Merry Christmas, and a 2009 filled with His joy and peace as you trust in Him. We hope that your celebrations are full of love and joy, and that the memories you make will sustain you for years to come.
No matter what awaits us, may we all overflow with hope, because we know and love Christ!
Peace,