One hundred days
We have had family staying with us for exactly one hundred days. Sharon, Chris, and their three children ages eight, five and three moved from Maryland to Minnesota on March 2nd, and now they have moved into their own home. They are happy to be first-time home owners and have been painting and working on a few projects in their century-old house for the past week.
Thursday night was the first night without them, and it was quiet and odd. Michael and I went to the movies and out to dinner with our gals that night, and when we came home the house was dark, the garage was empty and we parked our car there, and there were no little voices whispering or giggling in their beds. After we let Edith and Millie outside one last time for the night and locked everything up, I came upstairs and saw the nightlight on in the room where Mr. McBoy and Mrs. Nisky slept for one hundred nights. (Little Gleegirl mostly slept in the crib in her parents' room on our third floor, but she occasionally slept on a pallet at the foot of our bed.) Even though there are still some toys and clothes in the room that will be moved to their new house soon, the beds were empty and GT and the Halo Express was not playing on the little stereo. The nightlight seemed mournful to me, giving a normally heartening little glow for no one.
It has also been raining a lot in our part of Minnesota. Once I moved here from SoCal in 1981 I joined the ranks of The Weather Obsessed and nary a day passes without a few comments about the weather. We never did that in Covina, where I grew up. In the mornings we say while we're getting meds ready and breakfasts for our gals read, "Still raining."
"Yes, but the lakes are down so we really need it," the other will answer. Then if the rain stops one of us might remark profoundly, "Looks like the rain stopped. Maybe the sun will come out."
"That would be nice. I hope it doesn't get too hot any time soon, though." And then we can move on to other topics for the day once the mandatory weather talk is covered. Almost everyone in Minnesota does this, at least everyone that I know. Now if my daughters are reading this they will probably leave comments and say no mom you and dad are the only ones who do this but in my heart of hearts I know this isn't true. We are part of a statewide community of folks who have to do weather talk every day of their lives.
Having all seven of my grandchildren here is a gift. For the hundred days that three of them were temporarily living with us there was a little more activity than I'm used to, but now that they're in their own house we can start doing more intentional things together. I told all seven children that this summer I would have them each over for three or four days and we could do fun things of their choice, like building sand castles on Park Point, making Reese's bars, going to the library, and maybe even to a movie.
When I was young my maternal grandparents lived nearby and we saw them every Sunday. I remember watching Wild Kingdom and The Wonderful World of Disney on their living room television after dinner, but that was about as special as it got, since that grandpa and grandma weren't very fond of me. My paternal grandfather died before I was born, and that grandma lived in Missouri and was quite old. My father and I flew to visit her, my aunt and uncles and a brood of cousins, when I was nine years old. I remember being shocked that people in Missouri had basements. I loved riding to the top of the St. Louis Arch, and bought the 45 rpm record "Windy" by The Association on that trip. My cousins Tracy and Dawn and I listened to that record in my Aunt Mabel and Uncle Chester's basement fifty times that week.
The next time I visited that part of my dad's family was in the summer of 1973. We flew first to Detroit to pick up a brand new GMC motor home. It looked just like this except it was bright orange. 
As a favor to a friend who was a GMC dealership owner in our city, my dad agreed to drive the vehicle back to California and I and my cousin Tracy went with him. I had my driver's permit by then and my dad let me drive most of the way. I loved it. We stopped in Dixon, Missouri to visit my Uncle Charles and Aunt Jewell, and Tracy and I had a taste of what small town life was like. Everything slowed down in Dixon. I learned to throw horseshoes. I would walk down to the railroad tracks early in the morning with a blanket over my shoulders to ward off the chill, place a penny on the tracks and return to the big two storied farm house where my dad's older brother and his wife had raised their family. When the train whistle sounded later that afternoon I hurried over to find my completely flattened penny, marveling at such a phenomenon.
In Dixon I saw that my relatives really did eat cream gravy on biscuits at breakfast and at dinner. We drove out to what was left of Sudheimer, one of the places my father's family lived when he was young and my grandpa was a minister. Terrapins crossed the highways and we had to be careful not to hit them as we drove. I learned about chiggers. I saw my first Midwestern storm in Dixon, Missouri. I'd never seen a black, furious, thunder-crashing, lightning-filled storm like that in Southern California.
We sat on the front porch swing in Dixon and listen to the crickets and the frogs each evening. We walked the two blocks to the drug store and ordered a shake from the man behind the soda fountain counter. This was 1973 but it may as well have been 1957. I cried when I hugged Charles and Jewell goodbye and we set out on our way in the motor home.
We drove to Olathe, Kansas to see where my mother grew up. We drove by the huge, brick high school she attended — Wyandotte High.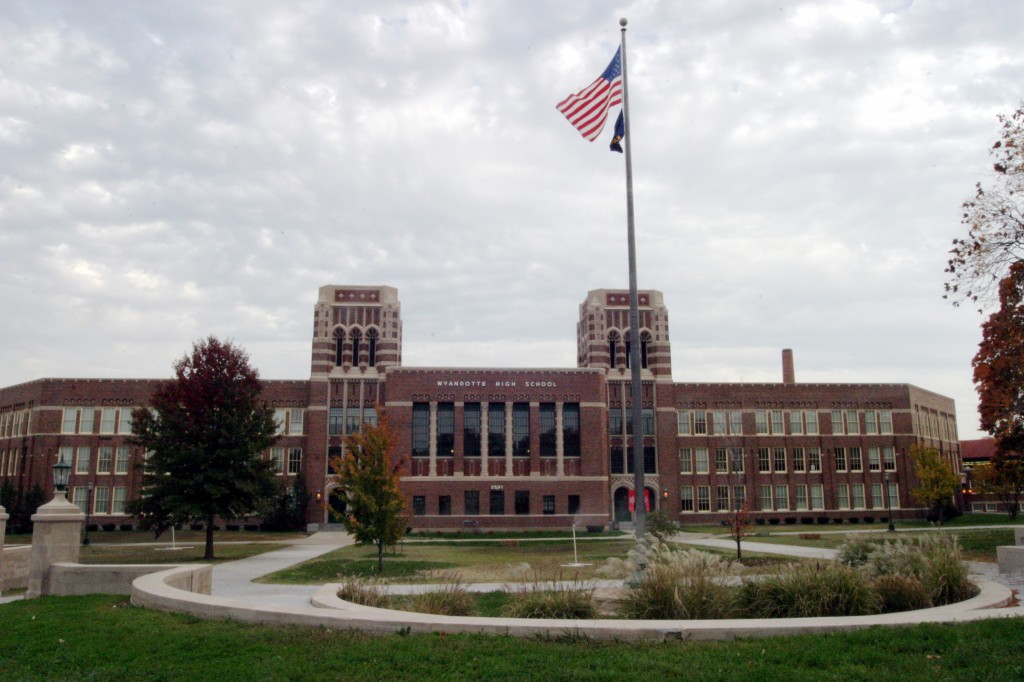 My mom was a member of the Skyliners, a club for the school's tallest students. You had to be 5′ 10″ to be a girl member and 6′ 0″ for a guy.
We visited Yellowstone, which was beautiful. And then we visited the Mormon Tabernacle in Salt Lake City. I had no idea that when I signed my name in the guest book there that nice looking and polite young men in shirts and ties would soon start knocking on our door back in Covina as a result. They could never convince me that Jesus and Lucifer were brothers and that God is a polygamist, no matter how little I knew then.
Yesterday I was talking to my friend Carole on the phone. She lives in the Chicago area and was telling me how unbearably hot it is there. She was resting on her porch swing as we chatted, and in the background I could hear the clear, fluid song of a cardinal on the other end of the line. "Is there a cardinal near you?" I asked her. Yes, indeed, there was. He was unusually perched on a telephone wire above her, singing his heart out, and Carole told me it was God's gift to me, to give me needed hope. I asked her how did she know the cardinal was for me, perhaps the cardinal was there for her, and she gave me an answer that made me laugh in a way I always do with her. "Julie," she said seriously, "I have no relationship with cardinals!" Implying that I do have cardinal relationships, and of course we got a good chuckle out of that. I believe God sends me cardinals when I need them, and so yesterday as Carole and I talked about books and possibly doing a blog together about books, I listened to the cardinal's song in the background and said in my heart to my Father,"Thank you."
Today I will run all kinds of errands. Someone in our household needs a haircut. Someone else needs tennies. Yet another needs her meds picked up at Walgreens. I'll do several loads of laundry and try to think of something different to make for dinner. Any suggestions, friends? Would you share your favorite "this is what I make when I don't know what to make" recipe with us?
Then tonight I will watch Mr. McBoy, Mrs. Nisky and Little Gleegirl while their parents go out to dinner and a movie by themselves, something they haven't done for over a hundred days. Or maybe two hundred days. Now that they're 1 1/2 miles from us, they can do this more often.
In another hundred days the summer will be gone. It will be September 20th, and the fall colors will be brilliant and the crisp air will make us all inhale and feel invigorated. We'll get up in the mornings to get meds and breakfasts ready and one of us might say to the other, "It's time to turn the furnace on, got a little chilly last night."
"Yes, before you know it the leaves in the woods will be gone and we'll be able to see the deer moving around again. I wonder when the first snow will come?"
Michael will probably ask, "Do you want to take a walk later?" And I might answer yes. And sooner than we think, many hundred days will pass and we will be just a memory, and our grandchildren will be remembering us.
I'm still working on what kinds of things they'll remember.