Every Good and Perfect Gift
Every good and perfect gift is from above, coming down from the Father of the heavenly lights, who does not change like shifting shadows. – James 1:17
Yesterday I was pondering the state of my mind, and I found that my mind was not in a good way.
At the end of the day, when dinner is over and my foster gals have taken their nighttime meds and are tucked into their beds, I like to put on one of my plaid flannel nightgowns and my Acorn slippers, make a relaxing cup of tea, and watch something on television. My favorite thing is to watch some series on Netflix, something that is compelling and keeps me thinking and wondering, wanting to go on to the next episode. There have been so many like this. Recently I decided to give a certain series a try because it was about murder and mystery (there's where it could start to go wrong, because too much gore and debauchery is not a good choice) and the lead actress is someone I loved in an excellent movie.
Early on, this series, while compelling, became awful. I should have stopped at awful, but the compelling won out. At least for several episodes. I kept the remote in hand so I could hit fast forward when scenes would come on that I didn't want in my mind. There are things I believe we are truly not meant to see. And as I age and my brain struggles to hold on to things that used to stick like Velcro, why would I put things there that are not helpful, beautiful, uplifting, strengthening? I have long thought that our brains/minds are the prime real estate of our lives, valuable beyond measure, and yet we dump toxic waste there and wonder why we have hopelessness and anxiety and fear as our daily companions. This series I watched for a couple of nights became toxic to my mind, and it wasn't even as bad as some of what's out there, I know.
I began to notice a dullness and a sense of hopelessness crowd out the normally thankful and optimistic thoughts I have. I felt gray. So I made the decision to stop watching the series, of course, and have made a more conscious effort to care for my prime real estate with intentional kindness and tenderness. I would never allow someone to come and dump their garbage on any piece of land I owned. Not one time. Why do I allow this with my mind?
Perhaps when we're young we don't know how to live out the encouragement of Philippians 4:8, and think on things that are true, noble, right, pure, lovely, excellent and praiseworthy. That might not even seem practical. Well, I can tell how not to live out that verse, and it's by watching hours of dark programs that encroach on that valuable property I have between my ears.
Anyway, I went to bed last night counting creatures. Some count sheep, I decided to bring a lovely slideshow into my mind of all the magnificent creatures I have seen just from the windows of this house. I knew that would be limiting, because I've seen wolves, but not from this house. I've seen undulating fishers in the winter, but not from this house. So as I turned on my left side with my right knee bent and pulled up on a supporting pillow (old hips), I closed my eyes in the dark and began to thank the Lord. Thank you for the deer. And I saw the most recent doe, neck stretched high to reach the bird feeder right outside my office window, eating the seed from the tiny openings. I had thought of running her off, but I watched and marveled instead. Thank you, Lord, for the fox. It has been a while since I've seen a fox in this neighborhood, but I recalled when I saw him, trotting down the middle of our street in all his rusty beauty. Thank you for the cardinals. We don't have many this far north, but warming weather has brought them to us in recent years, and when I see one, I am filled with hope. And the goldfinch, Lord. Just three days ago, a brilliant, almost neon flash of yellow on the bird feeder, and I stood and gazed and smiled. You know that God's creation has an eternal element to it when you can see the same things over and over and over, yet still they thrill you like the first time you saw them. The beauties of creation never get old, they just keep feeding and healing and strengthening us. But we must take time to look. And absorb. Thinking on God's goodness and faithfulness, and also His magnificent creation, is a good way for me to fix my mind on things that are true and good, excellent and praiseworthy. It makes a difference!
After I thanked God for the gift of the goldfinch, that was it. I fell asleep. Four creatures, four gifts, was all it took. It felt truly delicious to go to sleep that way. And tonight I will do the same, perhaps starting with the frequent flyers of our area, the chickadees. I love the way they swoop when they fly to our suction cup window feeder on the dining room window.
Here are some other gifts I'd like to share with you.
These red flowers are called mandevilla, and I love the red against the white of my house. Sara does my front deck planters every spring, and also decks them with greens and ornaments every winter. We've never had mandevilla before, and they will hopefully trail down as they grow. Isn't it a gift to be able to see color?
Please click to enlarge these.
I have three flowering crabapple trees at the side of my house, which grow so full each summer they're almost like a privacy hedge. This picture below doesn't do the pink spring blooms justice, but when I walk into my living room, the pink fills my vision and touches my heart in such a way I must pause and take it in.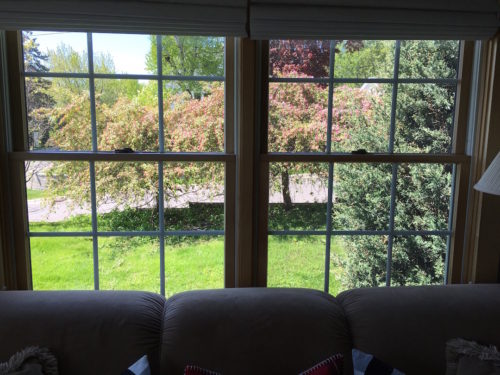 And this might not be terribly beautiful, but some of what I love are represented on this table in my living room. Songbirds (Eastern bluebird, cardinal, goldfinch) whose trills and calls lift the spirit, a part of a psalm to remind me to treasure each day and not waste it, candles and lamps that in their own simple way remind me that Jesus is the Great Light that pierced the world's and my great darkness. The B in the picture was a gift from my niece, who made it out of cardboard, covered it with Bible verses, put the spine of a Bible on it, and attached an old key with a ribbon. I love it. Birds, words, light, life. So much better than murder, conniving, lying, cheating, treachery, selfishness.
And can a porcupine be a gift? I think so, if it's measured by the heights to which my heart soared when I saw her. I was at Lloyd's house recently. He lives in the woods in a log cabin he built himself, and he sees bears, wild turkeys, beavers, myriad birds, deer, fishers, martens, ducks, and porcupines. I've never seen one in person before, and as I was looking out of his dining room window, there she waddled, toward the house. I took this picture with my phone, so it's not terribly clear, but I wanted to share it with you today. I had no idea porcupines have blond tips. She wanted to go under the house, but Lloyd clapped his hands and she raised up on her hind legs when she heard the noise, wavered in porcupine uncertainty for a moment, then turned around and ambled back into his woods. Their tails are so long and paddle-like! I would not like to meet her up close, but seeing her was a gift, and I thanked God for letting me fill my mind with His beauty in this way.
I named this lady Polly Pointer, and surmised that if she has siblings out there in the Minnesota woods, they could be called The Pointer Sisters. Was she praiseworthy and admirable? Oh yes, she was.
You may not think mismatched pillows are uplifting, but they bring me a little jolt of happiness. Sara knows I love plaid, so she gave me these two black and white buffalo checked pillows for mother's day, and I love them.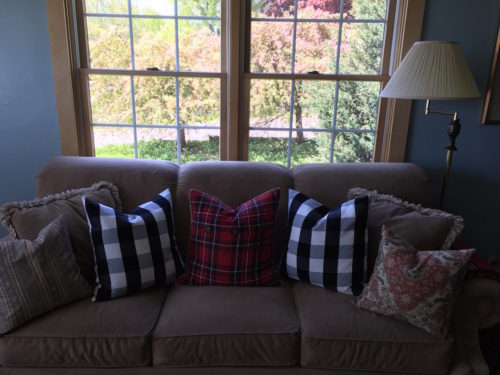 Another sub-quality picture below, but the sun pours into my house and I walk from room to room, grateful to see it. I bought my first piece of furniture online and it turned out well — the brown leather recliner below.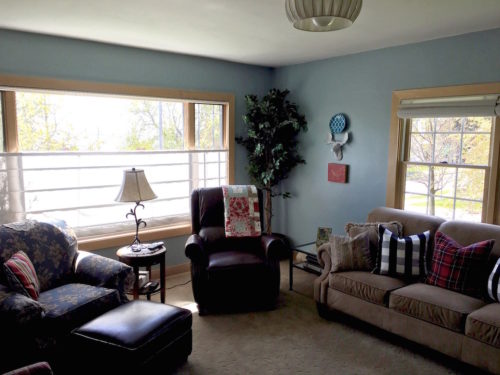 The greatest gifts of all are people. This man below is my son-in-law Chris. He is my oldest daughter Sharon's husband, and the father of four of my grandchildren, ages 17 to 6. I could do seven blog posts about all the ways in which Chris has blessed and loved our family.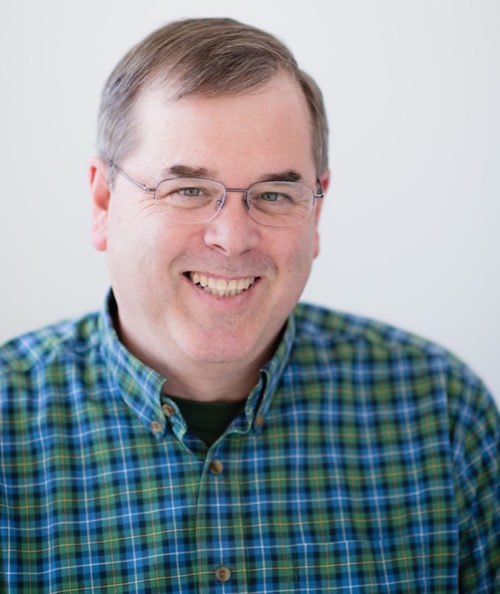 Out of the blue, Chris recently learned at his annual physical exam, that he is in severe kidney failure. He needs an immediate kidney transplant. He has been accepted into the Mayo Clinic's transplant program, and we are praying that someone will come forward and donate one of their kidneys to him. Chris is a behind the scenes giver, servant, helper. He is humble, and would not love that I'm putting this on my blog, but if there is someone out there who knows someone else who knows someone else…. his life might be saved. I myself am being tested (just sent my 24-hour urine collection sample and tubes of my blood taken from my doctor's office yesterday) and am willing to give one of my kidneys. But I am 61, and even if my kidneys turn out to be healthy, they are older models. A younger kidney would be even better. So I'm going to include a link at the end of this post, and if you know of anyone who might fill out this simple questionnaire on the Mayo Clinic's transplant site, please forward it to them. You will need his name — Chris McMahon. And you will need his birthdate, but I won't publish that here. If you email me at JulieBalm at gmail dot com, I would gladly give you his birthdate for the questionnaire. (All costs will be paid by his insurance.)
He is a gift to our family, to his wife and children, to his church, to so many. And there is a person out there with a kidney who could give a priceless gift to Chris. Thank you all for your prayers.
Speaking of gifts, this young man just passed his driver's exam. Mr. McBoy was waiting to have his picture taken for his first license. He is Chris and Sharon's oldest child. 6′ 6″ tall and still growing. He calls me Gma (Gee-mah) and it always makes me smile.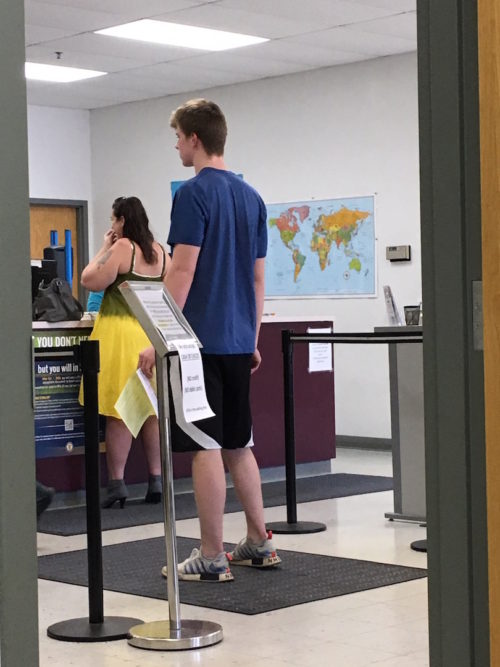 I took a walk in the cemetery where Michael is buried a few days ago, and even though I've passed this little stand of trees many times, I never noticed how close and straight the nine trunks stand. It reminded me of a family.
I'm asking God to wash my brain, and I'm cooperating with Him and filling it with creatures and creation and praise and people I love and the hope He has given me. Pondering His many gifts brings joy, and a deep contentment.
What are some of the gifts you're most thankful for?
The link to the questionnaire:
http://www.livingdonormc.org/#_
God bless and keep you all,